Thanksgiving in Destin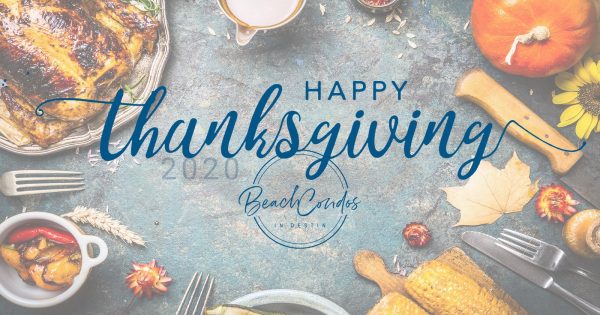 We love to celebrate Thanksgiving at the beaches here in Destin and Miramar Beach. It has become a tradition of so many families to gather at our beautiful vacation homes along the Gulf Coast where they can reconnect and create lasting memories. So whether you decide to take advantage of the gourmet kitchens in your vacation home, dine-out or cater, you can't go wrong!
Here is a list of some local restaurants that are serving up a Thanksgiving feast.


790 on the Gulf
11:30 AM – 5 PM | $TBD | Reservations Recommended
790 on the Gulf is a beautiful location along the Gulf of Mexico with atrium style, floor to ceiling windows. Their menu is still TBD but it's sure to have a coastal-cajun flair mixed in with your traditional favorites.
Check their Facebook event page will have the latest updates.
Call 850-650-4853 to make reservations.

Beachwalk Cafe
Noon to 5 PM | $56++ per person | Reservations Required
Beachwalk Cafe is located at the Henderson Park Inn. They are serving up a delicious mix of local caught seafood, traditional items and a dessert option including Cinnamon Raisin Bread Pudding with Vanilla Anglaise.
Facebook Event Page 
Take a look at their menu!
Call 850-650-7100 to reserve your space.

Grand Thanksgiving Feast at the Henderson
11 AM, 2 PM, 4PM Seatings | Crystal Ballroom | Adults $69, Child $29, 4 and under Complimentary | Reservations Required
Their menu is making my mouth water! Options such as Creamy Pumpkin Poblano Soup with Spiced Pumpkin Seeds, a seafood display to include oysters and shrimp, a carving station for ham, turkey and prime rib and a list of specialties and desserts that can satisfy every craving.
Purchase your tickets here.
Facebook Event Page
* If dining in the comfort of your home is preferred, the Henderson also offers their Takeaway Turkey dinner for this special holiday! See below for more details.

The Crab Trap
11 AM – 7 PM | First Come Basis
What's a vacation in Miramar Beach without a meal at the Crab Trap! It's tradition. And they are offering up a traditional menu of your Thanksgiving favorites plus a select few items from their regular menu.


Sunquest Cruise Thanksgiving Buffet
12 PM – 2:30 PM | Adults $75, Child (3-10) $40, Infants (no meal) $25 | Reservations Required
Try something different this year and take a dinner cruise this Thanksgiving on the 125′ Solaris Yacht. They are offering up at chef-attended buffet to include carved meats, fresh vegetables and dessert, of course! Guaranteed window seatsing available.
Reservations are available online at SunQuestCruises.com or by calling 850-650-2519. A 72-hour cancellation policy applies to all specialty cruises.


Brotula's
11 AM – 7 PM | Adults $45.95, 11 and under $24.95, Under 3 free | Reservations Required
Enjoy this delicious meal along the Destin Harbor at a favorite local spot. Brotula's is serving up a buffet menu to include deviled eggs, cajun mac & cheese, a carving station with roasted filet mignon, gruyere and parmeseah cream and cheese blintzes with strabettry sauce. Yumm.
Here's a link to their Facebook page and Thanksgiving Buffet Menu
Please call for reservations (850) 460-8900 or email [email protected]


Jackacudas
11 AM – 7 PM | Adults $45.95, 11 and under $24.95, Under 3 free | Reservations Required
Jackacudas and Brotula's are sister spots with similar buffet menus for Thanksgiving BUT Jackacudas offers SUSHI! So if you are looking to mix it up a bit, head on down to the Harbor and get ready for a tasty feast!
Here's a link to their Facebook page and Thanksgiving Buffet Menu
Please call for reservations (850) 460-2909 or email [email protected]


Cuvee 30A
11 AM – 2 PM | Adults $79.99, Under 10 $29.99 | Reservations Required, Early Reservations Recommended
Tap here to see Cuvee 30A's mouthwatering Thanksgiving Day Dinner Menu featuring Chef Tim Creehan's scrumptious Louisiana Fried Turkey and an appetizing array of traditional trimmings, side dishes and desserts.
Complete your reservation form here.  Be sure to read the details about confirming your booking! Same day bookings must be made on the phone 850-909-0111.
*****BUT what if you just want to stay home…..and not cook? Here are a few little treasures we found that are sure to please the need for speed, ease and feasting! The biggest challenge would be deciding which one to go with!


Takeaway Turkey – The Henderson at Home
4-6 Guests $160, 8-10 guests $275 | Reservations required 72 hours in advance, Limited available
You can find their traditional menu here.


Turkey-To-Go at Cuvee 30A
Accepting submissions NOW!
Tap here to explore the heat & serve options and place your order. Order pickup time is 10am-3pm Thanksgiving Day at 30A Burger, right next door to Cuvee 30A.


Cracker Barrel Heat 'n Serve Feast and Other Options!
Cracker Barrel offers a variety of options that can suit a party of 8-10 or 4-6 with turkey and ham options. The Thanksgiving Heat n' Serve Feast is for larger gatherings as it serves 8 to 10. The meal is cold and ready to heat, so you can spend more time with friends and family around the table and less time in the kitchen. Pick up between 11/21–11/29, while supplies last. 24-hour notice required for orders. Payment required at time of order.
Full details and ordering options.


Whole Foods Thanksgiving Dinner
You can choose from a wide selection of holiday meals and dine from the comfort of your own house or vacation rental. Meals range in size and price from $69.99 to $449.99 and serve up to 14 guests. Additionally, with organic meals, turkey dinners, ham dinners, prime rib, and even vegan meals, Whole Foods has a Thanksgiving Feast for everyone!
Start your order here.


Williams Sonoma Complete Elephants Deli Thanksgiving Dinner
Enjoy a truly traditional Thanksgiving with your favorites from Williams Sonoma! Thanksgiving dinner is a complete feast, with a fresh, free-range Willie Bird turkey paired with six favorite Elephants Deli sides, handcrafted in small batches with premium ingredients. Follow our directions for roasting the turkey, and then side-dish preparation couldn't be easier – simply heat and serve.
For Thanksgiving Delivery, order by November 20, 2020, 11:59pm PT, for delivery on November 25.
More details here.
***Enjoy Thanksgiving Break on the Emerald Coast with Beach Condos in Destin! See you soon!
Posted by Laura on 10/30/20 2:52 PM

Previous article: Fall Events: Destin and Miramar Beach Area
Next article: Logos