Beach Retreat 202 Condominium Rental
3 Beds | 2 Baths | Pet Friendly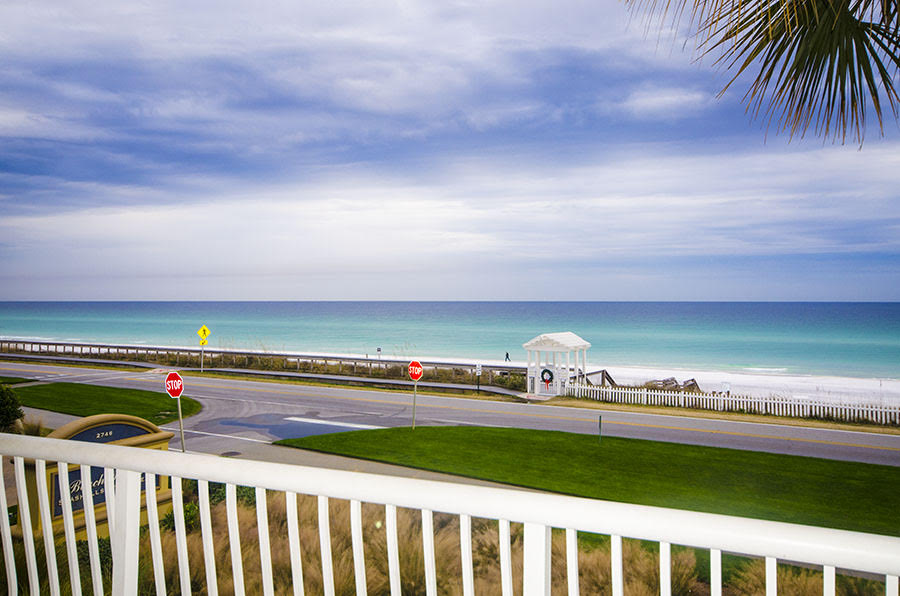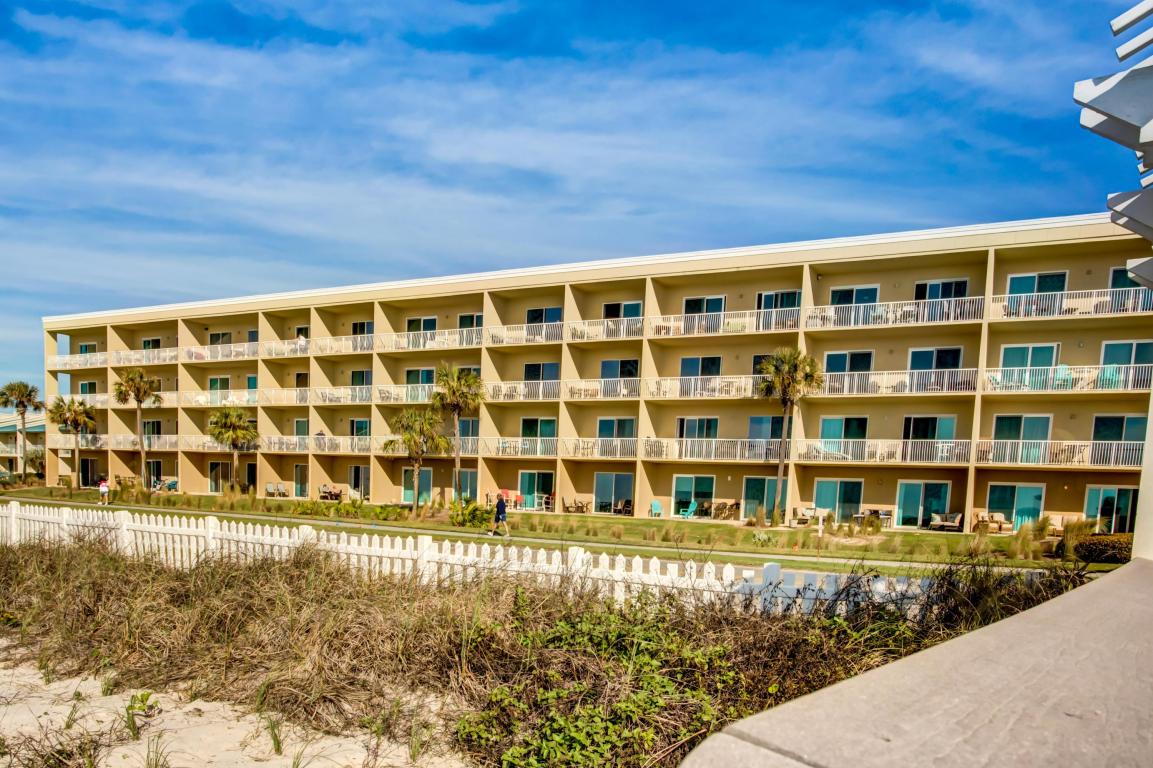 Description
This Gulf-front condo in the Scenic Gulf Drive area of Destin Beach and Miramar Beach has views from the living room and master bedroom. You will love the décor with attention to detail to make your stay comfortable.
3 Bedroom/ 2 Bath/ Accommodates 9 – Pet-Friendly Unit
This property does require Saturday-Saturday bookings from Spring Break Until November and Holidays
Gulf Front Balcony, 2nd floor with gorgeous views
Master King Suite with Gulf View and Balcony Access
Master En-Suite Bath has Garden Tub and Separate Shower
Guest King Suite with En-suite / Shared Access Full Bath with Shower/ Tub Combo
3rd Bedroom with Full Bed Bunk on Bottom, Twin on Top
Queen Sleeper Sofa in Living Room
Fully Stocked Kitchen
Washer/Dryer
Towels and linens provided. *Beach towels not provided.
Wireless High-Speed Internet and Cable TV
Beach Service Included during the Peak Season (umbrella and two chairs)
Pet-Friendly–Small Well Groomed, Well Trained Pets Allowed with Prior Approval (Some Breeds Restricted)
Beach Retreat Amenities
Beautiful Large (Seasonally Heated) Pool with Partial Shade Cabanas and Spa
Gym Located at the Beach Retreat Clubhouse
Large Private Beach
Charcoal BBQ Grills Near the Pool
Clubhouse Available for Guest Functions for an Additional Fee
Large Private Beach with Beach Service (Additional Setups Available Through the Beach Service)
Gated Community
Walking Distance to Restaurants
Bike Rentals Available Locally
Beach Retreat Community
The Beach Retreat is a pet-friendly community situated along Scenic Gulf Drive, perfect for family vacations and quiet getaways. Beach Retreat is convenient to some of the most popular restaurants in Destin such as The Crab Trap and Pompano Joe's, shopping at Silver Sands Outlet Mall or the Destin Commons Shopping Center, charter-boat fishing from Destin Harbor, walking and biking trails and numerous Destin golf courses. Resort guests enjoy the comforts of home, (fully stocked units including a washer and dryer,) private beach access and a beautiful, large, seasonally heated pool with attached jacuzzi.
Beach Retreat vacation rentals are on scenic Gulf drive between Maravilla (to the east) and Beach Resort / Leeward Key (to the west), making it centrally located in Miramar Beach.
Rates
Availability
16 Reviews
★ ★ ★ ★ ★
Our stay at Beach Retreat was awesome, we all enjoyed our stay. The condo was what we expected, it was clean and large enough for our whole family. Being on the beach was great. Thank you for replacing the washer in such a timely manner. Thank you for such a wonderful week. Linda and family.
Linda: Date of arrival - July 17, 2021
★ ★ ★ ★ ★
We had a wonderful stay at Beach Retreat 202. Beautifully decorated condo with a wonderful beach view and just a short walk across the street to the beach. Loved being able to bring our dog with us!! We will definitely be returning!!
Mary: Date of arrival - June 19, 2021
★ ★ ★ ★ ★
It was a perfect spot to spend spring break and we hope to return at some point.
Isabel: Date of arrival - April 3, 2021
★ ★ ★ ★ ★
Very nice unit and very clean.
Derrick: Date of arrival - March 6, 2021
★ ★ ★ ★ ★
This condo exceeded our expectations. Couldn't have asked for more. Highly recommend!
Stacie: Date of arrival - February 27, 2021
★ ★ ★ ★ ★
This was a pet friendly property that was gated, had a heated pool & hot tub during the winter, and catered to families with pets. The unit was very nicely appointed and had a wonderful view of the beach. Scenic Gulf Drive wasn't a distraction for us and you couldn't hear the traffic with the doors closed. The gulf view made up for it!
Gary: Date of arrival - January 16, 2021
★★★★★
This unit was a great choice for our first official time in Destin/Miramar Beach. We needed a pet friendly condo to accomodate our two cocker-spaniels and this was perfect. The location was amazing and a closer walk to the beach than staying in a high rise. The unit was very well-stocked - truly with everything you needed and more. The unit was nicely decorated and clean. We loved the pool area and also having the dog walk area on site was so convenient. In fact, CONVENIENT and EASY are the best words to describe our stay. The communications with Renee/Laura were quick and informative. Thank you for a great experience - we will be back to Miramar Beach and stay here again and again!

Julie: Date of arrival - October 3, 2020
★★★★★
Very well kept, 2 master bedrooms plus a small room with a double bunk bed! Kitchen well stocked! Our dog enjoyed watching the people and beach. Great parking lot and Pool! I would book again👍😍

Linda: Date of arrival - September 26, 2020
★★★★★
My adult family of 5 stayed at the property and were satisfied. The unit was clean and spacious. The view of the gulf was great. The location was within walking distance of several great restaurants that we ate at. There was plenty of grass to walk our small dog along the wide sidewalk along the beach street where a lot of people walked, rode bikes, roller boarded, jogged, etc. The street traffic was not that bad. It is 25mph with crosswalks about every 100 yards that also slowed traffic. I only have 1 negative comment regarding the seating comfort. The furniture and decor was beautiful and "beachy", but was not good for my bad back. However, the master bed was great with the pillow top. The beach service was great! Chairs were out at 7am just after sunrise. The unit also provided additional beach chairs and other items for use. The Kitchen was adequately equipped and refrigerator/freezer and ice maker worked perfectly. I highly recommend this property for anyone looking to get away!

Mark: Date of arrival - September 19, 2020
★★★★★
This is a great location for a last minute beach getaway. The apartment was well stocked, clean and comfortable. We will stay here again.

Gerardo: Date of arrival - September 5, 2020
★ ★ ★ ★ ★
Denise: VRBO Review #30124844 2/19
I have stayed at Beach Retreat, Maravilla and Leeward Key several times now and this unit Beach Retreat 202 is hands down my new favorite. I like the left side of beach Retreat so much better, the view is awesome and so easy in and out, plus the condo is so nice inside. Happy Camper
Date of arrival - February 17, 2020
We really enjoyed our stay, beautiful property, perfect location and well maintained. ★ ★ ★ ★ ★
Date of arrival December 29, 2018
Overall excellent place to stay and we will be coming back next year, we loved it and what a few.
VRBO Review #25111028 submitted 2/6/2019
We have booked many times with Renee and Laura and are they are always great to work with. We have stayed as several of their properties and they are all decorated tastefully. Glad someone out there understands the need to travel with our furry family.
202 is by far the best condo we have stayed in! This was the first vacation EVER that I didn't miss my bed. Beautiful view, beautiful furnishings and perfect location- until next time! I appreciate the attention to cleanliness too.
Wonderful stay!! ★ ★ ★ ★ ★
Date of arrival July 7, 2018
The condo was beautiful and well stocked with everything we needed for a great stay! Thank you so much, we will be back!!
VRBO Review #22897119 submitted 7/25/2018
BR 202 continues to be a favorite of ours. The condo is v clean, well stocked , convenient & beautiful. The furniture and beds are very comfy & the appliances are new and well maintained.
Questions on this property?
Beach Retreat 202 Condominium Rental
3 Beds | 2 Baths | Pet Friendly
Call Renee or Laura
(888) 251-5214 (toll free)
(850) 269-3342 (local)
or send this short form