Family-oriented vacation accommodations
We value our customers and wish to express our appreciation for your business. We generally have guests who care for our properties and are very responsible.
We do not rent to vacationing students or young adults under the age of 25.
Guests are urged to remember that the fun of your group should not prevent others at the complex from having a good time. Be respectful of others.
Smoking is prohibited in all condos. If evidence of smoking inside the condo is found, the guest will be charged a minimum of $550. If you smoke on the balcony you must provide and empty your own ash tray, not use the balcony floor to put out cigarettes, not throw cigarette butts off the balcony ($500 county fine if caught and eviction) or drop cigarette butts on the grounds. Please remember that smoke smell can carry into the units from the balcony so always keep the door closed.
Trailors, RVS, BOATS, Motorcycle Trailors, Campers, Fifth Wheels , or anything similar are not allowed to be parked onsite by the HOA for any circumstance. Please do not bring and park at condo. You can rent space at Germonimo Self Storage or Storage Max.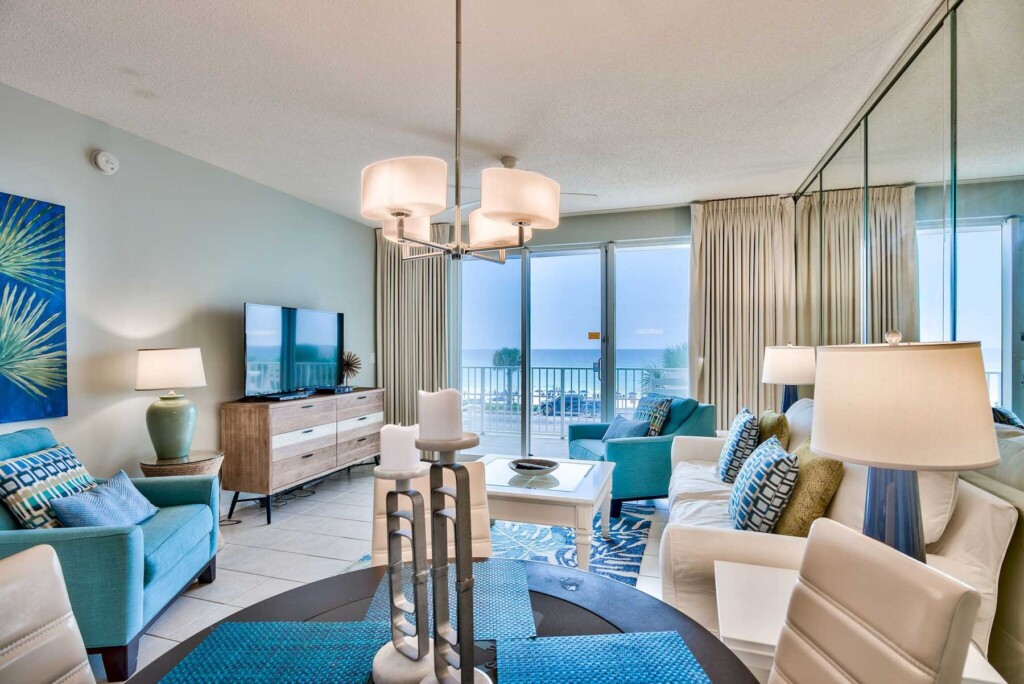 Reservations made under false pretenses will be subject to forfeiture of deposit and rental fees and eviction.
A starter supply of bathroom tissue, soap, and paper towels are provided. Guest will need to provide their own additional paper products and household supply items during their stay. Laundry detergent supply is the responsibility of the guest.
Hair dryers are not supplied in our units.
Bed linens and towels are provided. After the supply is used by the guest they would need to be washed by the guest for the duration of the stay. Guests are to bring beach towels.
Wireless internet/ TV access is provided via cable. The functioning of the internet access is dependent upon the cable companies, we will do our best to help but in most cases if the internet is not working we would have the guest call the cable company as they need the cooperation of the occupants of the property to resolve issues.
Condo complexes are not the same as hotels; there is not a front desk that can provide assistance to guest. However, we are 5 minutes away and happy to help.
If there is a problem with the unit, guest are expected to call us and email us at the beginning of the stay with any and all issues they may have so that we have the opportunity to assist or correct.
If repair or replacement of condo contents is warranted we may have to have a repair company come out during your stay to the condo. Access will need to be available to Beach Condos In Destin employees and any repair company needed between the hours of 9am – 7pm and after hours for any emergency repairs that may be needed. Guest are expected to be kind about these rare inconveniences and work with us to obtain a solution.
We do try our best to avoid problems but they do occur and we will need your assistance and patience. If you find any problems with your condo you must call us as soon as you do
Payment is accepted by check, Discover, Mastercard, or Visa. Cleaning fees are dependent upon the size of the condo.
A $700-$1000 advance payment is required for all condos and is deducted from the total cost of the reservation. This amount is either paid by a credit card number or echeck. This amount is not a security deposit and will not be returned to you as it is part of the total amount due for the stay.
A damage waiver fee of $25-$60 will be charged to each reservation and covers unintentional damages to the rental unit that occur during your stay provided they are disclosed to management prior to check-out. The fee will go towards paying for guest damages up to $1,000.00. Any damages that exceed $1,000.00 will be charged to a credit card number we must have from you on file.
This fee does not include fees charges for loss of keys, theft, failure to remove garbage from the property, smoking in the condo, leaving items behind, or leaving the house excessively dirty. These fees will be charged to the payment method on file.
Lodging taxes in accordance with Florida and Okaloosa/Walton County laws are collected and submitted.
All cancellations are subject to fines of $100 up to the total paid for your stay.
Bookings Length of 3 days -14 days total stay. $100 fine if you cancel more than 60 days prior to arrival. $500-$700 fine if canceled between 59 -30 days prior to arrival. Non refundable if under 30 days prior to arrival though we will try to recoup and refund minus previous fines and discounted rate if we can rebook for you.
Booking Length 15 days and greater. The advance of $500-$1000 is non refundable. We want you to be sure before you book that you are intending to come. The remainder of your stay is due at 60 days prior to arrival and from that point the total is non refundable. If you have to cancel and we are able to rebook we will reimburse you at the booking rate we receive minus advance
Cancellations or early departure or non arrival does not warrant refund of rent or deposit. We cannot refund for early departures or late cancellations. We do not refund for inclement weather which includes Hurricanes and Tropical storm. We highly recommend purchasing travel insurance.
Beach Condos In Destin is proud to offer our guests one of the best vacation rental protection policies in the industry. Rental Guardian Royal Adventure Travel Protection can can cover you and your vacation investment if and when the unexpected happens.
The policy costs 7% for the typical unexpected cancellation or 10.8% of the total cost of your trip for a cancellation for any reason policy. We recommend you purchase the insurance at the time of booking to ensure the best coverage but we can bind coverage until the balance is paid 30 days prior to arrival. In addition to protecting your vacation investment, go to the Rental Guardian website at the link below for more information. This will provide up to a 100% refund to your trip stay with us minus the cost of the initial premium.
Check in time is 3 pm to 5 pm due to occasional limitation of cleaning staff. You will be provided with Check-In Instructions by e-mail and there is not a problem with late check in times.
Check out time is 10 am. Please adhere to the check out time as we have cleaning staff time constraints.
There is a $50 fee for failure to return keys.
Management company and owners are not liable for any items left behind by the client. Please double check the condo prior to leaving. Do not neglect to check drawers and under beds. We will try our best to return any items found at the cost of packing and shipping to the client. We will have to charge for shipping plus $25 for man hours to retrieve, package and ship your items. We are not a huge company and it can take considerable time to retrieve and return items left behind.
Occupancy limits are established for each condo and noted on the web site. If the occupancy limits are exceeded, then guests will be asked to check out and full deposit and rental fee will be forfeited. NO EXCEPTIONS.
Parking passes are provided with each condo. Beach Retreat and Maravilla are secured parking complexes with gated access. Codes will be provided when the rental funds are received. Parking passes must be returned to the condos before departure.
RV's, boats, trailers are not permitted due to space limitations, condo association rules and regulations unless specifically notified otherwise. There are businesses in the area that will provide storage for your equipment for an additional fee. We will provide that information upon request.
Many of our condos are pet friendly. Our guests are required to have their pets well groomed, and well trained before bringing their pets to our accommodations. Pet areas are established at each complex. Feces must be bagged and disposed of in outside dumpsters. Condo Association rules require $100 fees for failure to properly dispose of feces. Walk dogs in the established pet areas and always be prepared with a bag in hand ready to manage droppings to prevent fines. Condo management personnel will expect you to be carrying a bag when you are out walking with your dog. Dogs are not to create a nuisance situation for other guest. We ask that you be prepared to provide a copy of the most recent vet check up documents should the need arise.
The person making the reservation is responsible for instructing all members of their group on this requirement.
We have had very few problems renting pet friendly. Here is a list of the rules for our pet friendly condos.
No more than two pets per condo, unless otherwise approved
Weight limits may apply to all condos and houses. No aggressive dog breeds are allowed and there are restrictions against certain breeds.
Dogs must be up to date on shots/flea preventative
Dogs must be bathed and groomed prior to arrival
Dogs must remain on a leash at all times when outside the condo, no exceptions
Dogs are not allowed to be unattended on the balcony of the condo
Dogs are only to be walked in the designated area
Pet feces is to be picked up and disposed of properly.
Pets are not allowed on the beach
Pets are not allowed around the pool area of any condo due to condo and health department restrictions
Excessive barking will not be permitted
Avoid Nuisance behaviors
Our guests–people and pet–must make every effort to respect and value the enjoyment of other guests while you are here
Vacuums are provided to vacuum pet hair from the rugs and floors. Pets must be kept off furniture and beds or bring covers for our furnishings to prevent damage.
The rental agreement made between Beach Condos in Destin and the party (parties) named on the lease is not transferable to friends and/or family. It is the responsibility of the named party in the agreement to be sure that all rules and regulations in the agreement and of the condo association are followed during the stay. Failure to comply with the rules and regulations can result in fines or eviction without refund.
Tents and canopies are not allowed on the beach. Pool rules are posted at each pool. Guest swim at own risk.
Beach Condos In Destin is not responsible for items left behind. Please do your very best not to leave items behind in the condo. It always takes over 1-2 hours of time to find, pack, address and take to the post office to ship items back. That can be excessive for our small staff. If we have to ship a item back to you, we will charge $25 plus the cost of packing, shipping and insurance to ship the item. Please try your very best not to leave any items behind.
Do not leave the balcony door open this creates a wind tunnel which will cause the front door to slam shut which can hurt guest if standing in the way. It can also cause the air conditioner to freeze up resulting in malfunction and costly AC maintenance.
During the summer months especially we often get a seemingly peculiar call. Guest check in and bring a large number of items to put into the fridge. Unlike at home, the fridge is empty upon check in and air takes a considerable amount of time to cool all items at once. In your fridge at home, it uses stored items to assist cooling new items.
We often get calls with guest thinking the fridge may not be working. The appliance repair company does not work on weekends and for just a service call to visit it cost our owners $170 regardless if there is a problem or not. We encourage guests to bring a cooler for items you want to cool quickly place items that easily spoil in the freezer. It may seem silly, but this call happens about 3 times a week during summer at various units.
Also remind family members that the more often the door is opened the longer it will take the fridge to cool items. If the fridge is still not working well the following day, feel free to give us a call and we will call the repair company.
To prevent damage to the condo please follow the following rules:
Shake out sand from clothing and towels before washing and drying. Sand will damage the washer and dryer.
Do not leave the doors open while the air conditioner is running. It will freeze up and stop working requiring a service call.
Do not wash colored beach towels or clothing with the condo linens.
If something is spilled on sheets or linens during your stay please wash to avoid stain setting in, if the stain does not come out call us before drying the items. Drying a stain will set it in.
Trash must be disposed of in the proper dumpsters or trash chutes. Do not leave garbage in the condo upon departure.
Never leave trash bags outside the condo door or in stairwells. Fines of $100 per occurrence are applicable for failure to properly dispose of trash.
The dishwasher and garbage disposal are to be run prior to departure. Do not leave dirty dishes, pots, pans upon departure.
Beach Condos in Destin reserves the right to charge guest for additional housekeeping service due to guest's lack of care or respect for privately owned properties.
From time to time we may email you about upcoming specials or promotions. If you do not wish to receive please email us with the heading unsubscribe.
Information published on our site, though deemed accurate is not guaranteed. It is subject to errors, omissions, change of price, or withdrawal without notice.