Leeward Key 604 Condominium Rental
2 Beds | 2 Baths | Not Pet Friendly
Description
Leeward Key 604 has been gorgeously updated with cool, coastal colors, updated beds and furniture and recognizable attention to detail. Leeward Key 604 books quickly due to a high number of reapeat guest each year.  The  Leeward Key Condominiums are a favorite of many guests staying in the Destin area and are highly sought after vacation rentals. This is one of the only Beach Condos in Destin properties with 2 pools, one on the beach side of Scenic Gulf Drive and one on the North side of Scenic Gulf Drive, behind the condos themselves. The view from this unit is arguably one of the best beach views in Destin.
2 Bedroom | 2 Bath | Accommodates 6 | NOT Pet Friendly
Master Bedroom 1: King bed with full view of Gulf of Mexico
Master Bath 1: Ensuite full bath with walk-in shower
Guest Bedroom 2: King bed
Guest Bath 2: Ensuite full bath with shower/tub combo, also accessible from Living Room
Living Room: Queen sleeper sofa
UNIT FEATURES:
Gulf-front balcony
Living Room with full view of the Gulf from the 6th floor
Large, renovated, fully-stocked Kitchen
Large capacity stack Washer/Dryer
6th Floor, 2 Elevators
Spacious feel with 10′ ceilings throughout
3 TV's with Cable in Living Room and both bedrooms
WiFi high-speed Internet
Towels and linens provided (please bring beach towels)
Seasonal Beach Service included – 2 chairs/1 umbrella, mid-March to end of October
A note about supplies:
Beach Condos in Destin provides dish washing soap for your stay and an initial supply of toilet paper, 1 roll of paper towels, hand soap, and 2 kitchen trash bags; enough to get you through your first 24 hours. We recommend you bring the following items for the remainder of your stay: toilet paper, paper towels, trash bags, napkins, spices/condiments, coffee and coffee filters, laundry detergent, hairdryer, beach towels, umbrella, beach chairs, beach toys, sunscreen, and anything else you may need for an enjoyable vacation.
LEEWARD KEY AMENITIES
Beach Service included in season – 1 Umbrella/2 chairs (March through Oct)
2 pools–Beachside and North Pool
Well-equipped, on-site fitness facility
Large private beach
Gas grills
COMMUNITY HIGHLIGHTS
Leeward Key is located in the heart of the Panhandle in Destin, Florida and nestled in a quiet, family-friendly area called Miramar Beach. Guests enjoy some of the best views of the Gulf, private beach access and fun amenities, including a beachside pool! The Miramar Beach area is known for being a prime spot for dining on fresh, local-caught seafood and other southern fare. Conveniently located near numerous shopping, dining and entertainment options, a vacation at Leeward Key is sure to be one to be remembered for a lifetime.
*All of our properties do require a Saturday-Saturday stay during Summer and other busy times of year.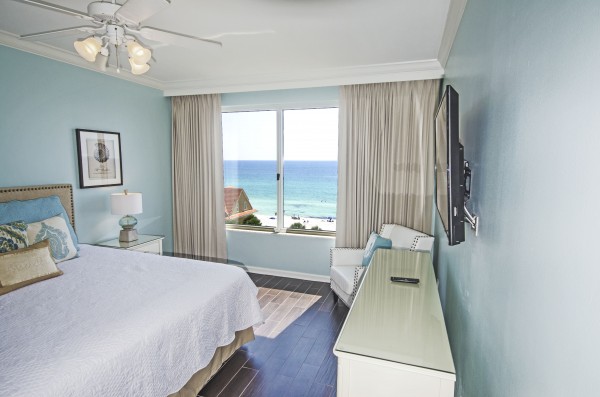 Rates
Availability
29 Reviews
★ ★ ★ ★ ★
We normally stay on the beach this is across the street but easy access to the beach and gulf front views. Lord willing we will be back! (VRBO Review)
Eva: Date of arrival - October 19, 2023
★ ★ ★ ★ ★
The condo was just as described. Pictures are identical also. We enjoyed the chairs included everyday on the beach as well as having two pools. My daughters shower curtain rod fell and i emailed and was quickly communicating with the owners and having someone come fix our issue! The unit is literally ten steps from the elevator so that was handy. Each bed was so comfortable and my kiddos enjoyed the couch bed also! They made cooking in the unit a breeze and had everything you would need to do so. I do wish more plastic cups/bowls etc would be available so i wouldn't worry about my kids breaking dishes! Also maybe a portable coffe cup or two would be nice. Just a small suggestion!! We loved our stayed at this until and will be back. We would recommend walking the ten steps and eat next door. We did twice! Once barefoot and in swim suits. A wonderful trip! Thanks for everything.
Adira: Date of arrival - July 15, 2023
★ ★ ★ ★ ★
Condo , weather, and Beach was perfect! Already planning to return next year to 2 weeks. (VRBO Review)
Harvey: Date of arrival - September 17, 2022
★ ★ ★ ★ ★
Convenient and very clean and comfortable. (VRBO Review)
Margaret: Date of arrival - August 27, 2022
★ ★ ★ ★ ★
It was exactly as pictured online. The balcony and view from the living room and master bedroom were spectacular! Great communication, and the place had everything we needed and more! I highly recommend staying at 604 Leeward Key!
Jean: Date of arrival - August 6, 2022
★ ★ ★ ★ ★
The condo was very clean and has an awesome view!! There are two restaurants right beside complex that make things easy on Long Beach days. Renee is very easy to deal with and quick to respond to all your needs!!
Nathan: Date of arrival - June 18, 2022 (VRBO Review)
★ ★ ★ ★ ★
Me, my husband and my sister and her husband stayed in this condo 6/11/22-6/18/22. The condo looks just like the pictures. Very clean. The master bedroom which I stayed the mattress was comfortable, I had back surgery a couple yrs ago most mattress I can't sleep on so, I'm a little scared when I book vacations. The master bath absolutely gorgeous a big shower with a strong shower head and plenty of hot water. We only ate breakfast and lunch in the condo so we didn't need a lot of kitchen things but it was plenty for us. The washer and dryer very nice and looks new. The other appliances were also updated and looks new also. They sit out hand soap at the kitchen and both bathrooms, they even had liquid dish soap and dishwasher soap also. The view of the ocean it couldn't get any better than that. I couldn't get enough. Loved loved it. I really recommend this condo.
Barbara: Date of arrival - June 11, 2022 (VRBO Review)
★ ★ ★ ★ ★
We had a wonderful time! The condo in Leeward Keys provided us with a clean, beautiful, well stocked place to stay with a fantastic view of the beach. We are already looking forward to next year! (VRBO Review)
Brenda: Date of arrival - June 4, 2022
★ ★ ★ ★ ★
We had an absolute blast on our Florida vacation at this vrbo. Everything was as pictured and very clean. Communication on check in and contacting was a little difficult but I was also new to vrbo bookings.
Brandy: Date of arrival - April 16, 2022
★ ★ ★ ★ ★
We love this location. This unit was not disappointing at all! It was perfectly clean when we arrived and everything you could ever need for a comfortable stay was there. The view is absolutely amazing from the balcony and master bedroom. The added touch of board games was a wonderful surprise for our kids. Absolutely loved our stay and can't wait to visit again very soon! (VRBO Review)
Jessica: Date of arrival - March 26, 2022
★ ★ ★ ★ ★
Location was perfect and had beautiful decor and ocean view.
Nancy: Date of arrival - September 25, 2021
VRBO Review Submitted 10/12/2021
★ ★ ★ ★ ★
A very nice unit. Have stayed at Leeward for 17 years. This one was as clean and nice as they come.
Michael: Date of arrival - September 18, 2021
VRBO Review Submitted 9/30/2021
★ ★ ★ ★ ★
Very beautiful views from this unit along with a very nice and comfortable condo made for a memorable trip. 2nd stay at Leeward Key and really had a nice vacation but will not be able to stay after this visit due to change in requirements by building board stating no longer welcoming pets. If you are traveling without your fur babies, I would highly recommend staying at this unit! Just a short walk across the street to the beautiful white sand beach, Kenny's bar next door for libations and some awesome grouper bites, a nice balcony to have your coffee watching the dolphins at play. Defintely would go again if they lift the ban on pets :)
Maria: Date of arrival - September 4, 2021
VRBO Review Submitted 9/22/2021
★ ★ ★ ★ ★
We really enjoyed our stay! Condo was clean, beds were comfy, and easy access to the beach. Both pools are nice as well.
Brent: Date of arrival - August 21, 2021
★ ★ ★ ★ ★
Beautiful condo, very clean and great location! The owners have great taste and it is decorated beautifully! We really appreciated the extra touches such as the extra hand soap and dishwasher pods.
Caitlin: Date of arrival - July 24, 2021
★ ★ ★ ★ ★
The property was fabulous. Clean, roomy and comfortable. The area is just too busy and crowded. Traffic, helicopter rides, etc were constant. Restaurants are a one to two hour wait. Beaches are packed . But if you like this area, this unit is well worth renting.
Ronald: Date of arrival - June 19, 2021
★ ★ ★ ★ ★
Beautiful, comfortable, and spotless. Wonderful views of the gulf. The beach chair attendant was super nice and helpful. The only downside was....we had to leave.
William: Date of arrival - May 1, 2021
★ ★ ★ ★ ★
We loved the location (right outside of Destin), the condo and the private heated pool and beach access. The beach attendant, Christian, was very helpful too! The beds were comfy and the condo was perfect for our family of four.
Dawn: Date of arrival - March 20, 2021
★ ★ ★ ★ ★
Faith arrived 8/8/2020
Loved the view the second you walk in the unit and the condo was the perfect layout for our vacation. Easy access to the beach and wait for the elevator was no problem at all. Enjoyed the proximity to restaurants, the umbrella/chairs on the beach and all the sidewalks to take walks. Best part is our spaniel was able to come with us and made lots of friends during our visit. Thank you for letting us stay at your beautiful condo!
VRBO Review #56693126
★ ★ ★ ★ ★
Michael: Date of arrival - July 11, 2020
Great location for sure. Updated unit key. Covid took on a whole new meaning & is a 100% different in Destin. No understanding of the pandemic what-so-ever. Nobody in masks, packed restaurants. An accident waiting to happen. Inland much better i.e. @ Publix, and upscale resaurants where we found food "to go". Beach side resaurants offer no "to go" after 4:00 p.m. because they have so many customers either waiting in line or inside the place they simply don't need the extra hassle "to go" orders apparently represent. These are tuff times for sure and non-Covid I'm certain more ideal but the mind-set down there was rediculous.
VRBO Review #55992239
★ ★ ★ ★ ★
Linette: Date of arrival - July 25, 2020
Loved our time at Miramar Beach and our Condo was perfect. We are grateful to have found our new favorite spot! Thank you!
VRBO Review #56003968
★ ★ ★ ★ ★
Claire Date of arrival - May 25, 2020
This was a very nice place with great views. I would stay again and definitely recommend
VRBO Review #54179782
★ ★ ★ ★ ★
Sandy: Date of arrival - September 24, 2019
This was our first experience with staying at this property and it was love at first site. The condo is beautifully decorated and conveniently located directly across the street from the Gulf of Mexico. The condo was fully furnished including all cooking utensils. The beds were super comfortable. There are two gas grills on site available for usage. Everyone staying at this complex was super friendly. We loved the beach service. Not having to carry beach chairs and set up a umbrella made our stay very relaxing. We enjoyed walking using the trail and sidewalk on the scenic highway. This condo is also conveniently located near various shopping opportunities, entertainment, restaurants, Destin commons and Harborwalk Village. We look forward to returning in the future and this will be our place to stay!!!
VRBO Review #28415174
★ ★ ★ ★ ★
Yana & Jon: Date of arrival - December 23, 2019
We absolutely enjoyed our stay at the property! The space is well decorated, clean, and spacious. Both beds are comfortable. Kitchen has everything you might need to prepare meals. We will definitely stay again!
VRBO Review #29510174 submitted 12/28/2019
★ ★ ★ ★ ★
Dwight M - Date of arrival - June 8, 2019
Very Clean and well maintained property! Great location and easy access to beach!
VRBO Review #26643255 submitted 6/18/2019
Awesome Condo. Great Views. Great Location ★ ★ ★ ★ ★
Date of arrival February 21, 2019
what a beautiful condo. very clean and updated. very cozy. views from the living room, master bedroom & kitchen were awesome. location is great. several restaraunts within walking distance. close to the outlet malls & golf courses. we have been going to Destin for years and this is by far our favorite place to stay. even our furbaby came along as this is a pet friendly building. we are already planning our next trip down and we will definitely be staying here.
VRBO Review #25501651 submitted 3/15/2019
Great condo with excellent location ★ ★ ★ ★ ☆
Date of arrival August 18, 2018
Great location with awesome gulf view. Amenities in condo were very good. Would be nice to add Keurig in kitchen. Would definitely stay here again. Sliding glass door to outside balcony would not lock. Lock was broken and needs to be fixed.
VRBO Review #23648729 submitted 9/6/2018
What a week! ★ ★ ★ ★ ★
Date of arrival August 4, 2018
Location is great!
Water is amazingly clear.
Sand is sooooo smooth.
Accommodations were top notch.
Loved the umbrella and chairs set up. TIP: chairs are set up early, but are not to be "occupied until 9am." The "paying" customers have their names on their set, while those that have a set up included with their condo are first come first serve. Just grab a set after you check in the first day with the guys-John was super sweet- and then all the other days just pick your spot regardless of time.
Would definitely recommend staying at Leeward 604!
Thanks for a terrific vacation.
VRBO Review #23258437 submitted 8/12/2018
Fantastic ★ ★ ★ ★ ★
Arrived 3/3/2018
Renee's property is lovely. We had a wonderful stay there. Miramar Beach is the perfect family vacation spot.
VRBO Review #21527846 submitted 3/20/2018
Reviewer location Ireland, Italy, Europe, New England and the Southwest
Questions on this property?
Leeward Key 604 Condominium Rental
2 Beds | 2 Baths | Not Pet Friendly
Call Renee or Laura
(850) 269-3342 (local)
or send this short form