Mediterranea 412D Condominium Rental
2 Beds | 2 Baths | Not Pet Friendly
Description
If you have driven along Scenic Gulf Drive, chances are you've noticed and admired the beautiful architecture and stunning grounds at Mediterranea. Mediterranea is an upscale, luxury, vacation rental property in Destin. Mediterranea is one of the very few Destin rental complexes which features a beautifully landscaped courtyard with a large pool and spa and offers spectacular views of Destin's white-sand beaches. There is a picturesque gazebo on the beach side that really sets the tone for the entire neighborhood.
Unit 412D is a 2 bedroom/ 2.5 bath condo with 3 total balconies. This place feels spacious from the moment you walk in. The owners have done a great job updating the condo with a fresh, Florida-feel that guests really respond too.
2 Bedroom | 2.5 Bath | Accommodates 7 when sleeper sofa is utilized | NOT Pet Friendly
Master Bedroom 1: King bed with private balcony
Master Bath 1: Jacuzzi tub, separate shower, makeup area
Guest Bedroom 2: King bed, Day bed with Trundle (equivalent of 2 Twin beds), private balcony
Guest Bath 2: Full bath with shower/tub combo
Half Bath: Inside entryway
Living Room: Roll away bed (equivalent to 1 Twin bed)
Both bedrooms have a private balcony
Large family Living Room and Dining area
Flat screen TV's in Living Room and both bedrooms
Cable TV and WiFi
Roll away bed for the Living Room
Fully equipped Kitchen
Large, full-size washer and dryer in Laundry Room
Western facing unit allows for great sun in the afternoon and nice sunsets
Beach Service of 2 chairs and 1 umbrella included during season (mid- March to end of October)
Stunning lawn and Gulf views
Exquisite beach community with private beach access
COMMUNITY HIGHLIGHTS
The grounds of The Mediterannea are covered by a lush courtyard area with a 3,000 square foot, seasonally heated pool and spa surrounded by a spacious sun deck, gas grills and a gazebo.
Additional amenities offered at Mediterranea include a community room, fitness room, and tennis courts.
Guests of our unit enjoy the use of 2 chairs and a umbrella setup on the beach from mid-March to the end of October. Additional chairs and umbrellas may be rented at the beach for an additional fee direct from the Beach Service attendant.
PROPERTY AMENITIES
Private beach access
Poolside Spa
Gulfview lagoon Pool
Outdoor Hot Tub
Expansive beachfront access
Lush, tropical Landscaping
Tennis Courts
Fitness Center
Free Wi-Fi
Private gated beach access
Gazebo
Mediterranea stands out among the typical beach communities in the Destin Miramar Beach rental area.
Superior design is evident within each unit and the grounds themselves. Mediterranea has a large pool, hot tub, tennis courts, exercise facility and a private beach. Beach service of two chairs and one umbrella is provided during season.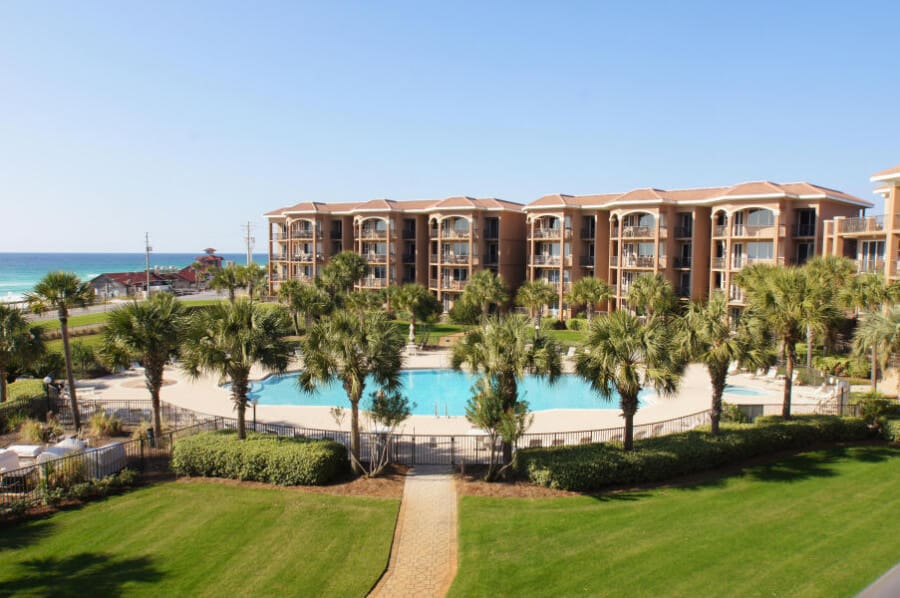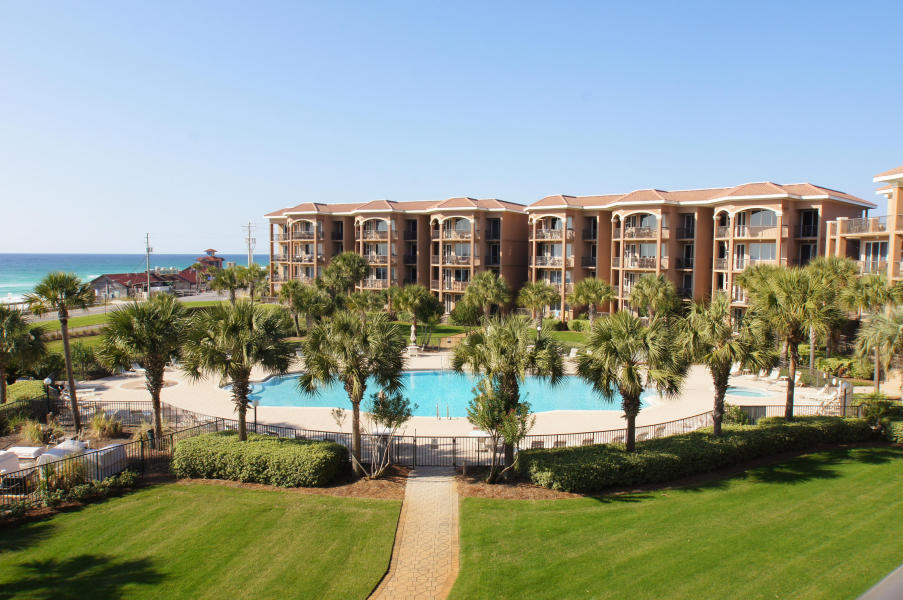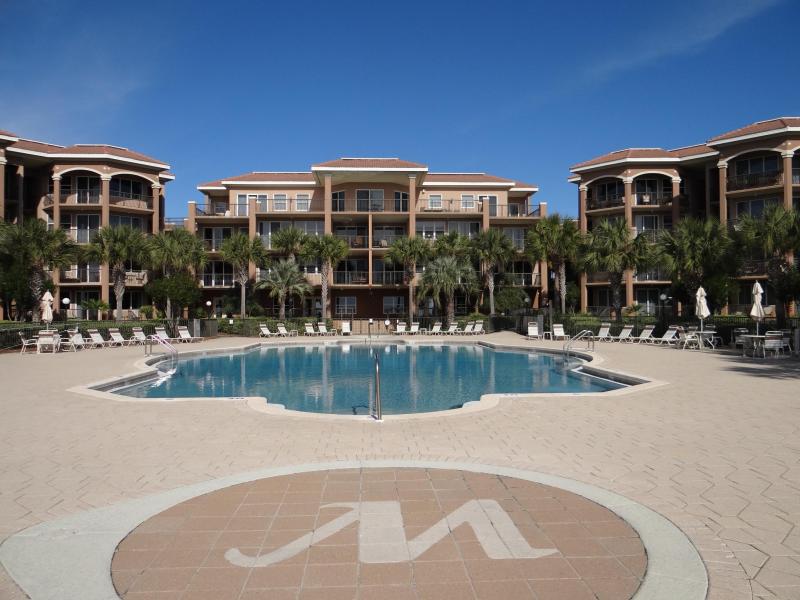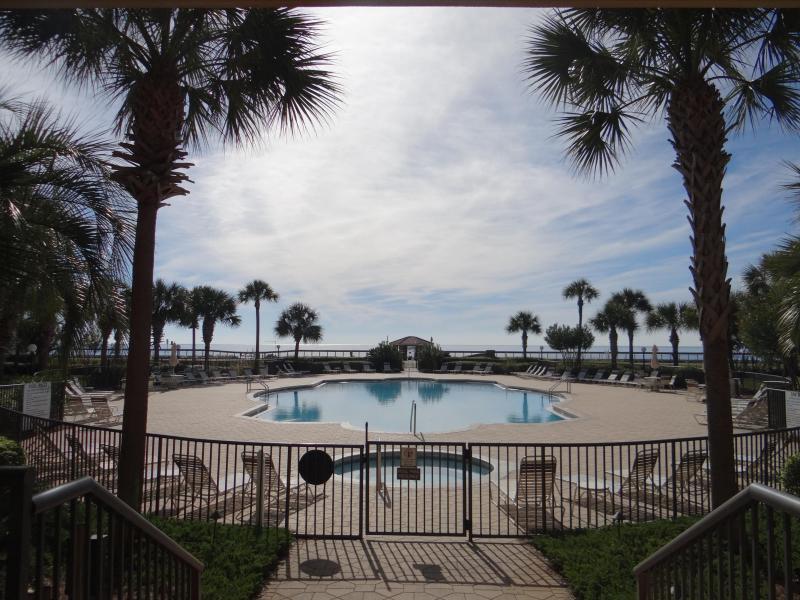 Rates
Availability
32 Reviews
★ ★ ★ ★ ★
We had a wonderful stay at this condo this summer! It was very clean and had everything we could need! I appreciated the black out curtains for the little ones as well as the extra twin bed in the guest bedroom! The beach was beautiful as well as the pool (although way too warm!!). We hope we can stay here again in the future! (VRBO Review)
Erin: Date of arrival - June 24, 2023
★ ★ ★ ★ ★
We love Mediterranea and love this condo! We stayed in this exact condo several years ago… loved it then and still love it. The upgrades are beautiful and everything is clean and organized. Will definitely be returning! (VRBO Review)
Angela: Date of arrival - May 27, 2023
★ ★ ★ ★ ★
Great place, enjoyed it tremendously, will certainly be back!
Todd: Date of arrival - April 29, 2023
★ ★ ★ ★ ★
I absolutely love staying here!!! 2nd time staying in this particular condo.
Kristen: Date of arrival - May 7, 2022 (VRBO Review)
★ ★ ★ ★ ★
I absolutely love staying here!!! 2nd time staying in this particular condo.
Kristen: Date of arrival - May 7, 2022
★ ★ ★ ★ ★
We really enjoyed our stay here. Perfect location, the house had everything we needed. There are some Restaurants close by. The view was amazing. Communication with host was great. They were there when we reached out and needed them and otherwise on our own, which we liked very much. We'd rent this place again for sure.
Jeff: Date of arrival - November 3, 2021
★ ★ ★ ★ ★
Listing was exactly as portrayed. Great location and views were wonderful!
Terri: Date of arrival - October 23, 2021
★ ★ ★ ★ ★
We have stayed at this facility over ten times. It is our favorite, we enjoy the cleanliness, the view, the private beach, and the fact that we can eat lunch at Pompano Joes every day! This unit was top notch. Super clean, comfortable beds, plenty of living room seating. I appreciated the small things like power strips on the night stands, hand soap at every sink, and plenty of hooks in the bathrooms. The fact that the unit had leftovers of dishwash soap, and dishwasher pellets was very appreciated. The rental company was great to work with, I called a few times with questions and someone always picked up. The ladies that work maintenance at Mediterranea are hard workers and keep the place spotless.
Brooklyn: Date of arrival - October 2, 2021
VRBO Review Submitted 10/12/2021
★ ★ ★ ★ ★
We loved everything about this property! I would go back in a minute! Everything was pristine and our particular unit was amazing. And the view!! Couldn't beat it. We go to this area of Florida every year and this unit was by far our favorite. The only thing we didn't like was the beach service and that is only because of the individual who was working. But this is no reflection on the property. Just our opinion!
Terri: Date of arrival - September 11, 2021
VRBO Review Submitted 9/27/2021
★ ★ ★ ★ ★
The place was very clean. Directly across the street from the beach. Wonderful view of the ocean. Highly recommend staying there. One minor detail about the private beach is we were told we couldn't set up a canopy tent. Had we known ahead of time we wouldn't have packed that. Great time otherwise
Greg: Date of arrival - May 8, 2021
★ ★ ★ ★ ★
Condo excellent and had everything we needed snd then some.. very clean.. beds off the chart comfy.. only issue. Workout facility was under construction.
Lea: Date of arrival - April 3, 2021
★ ★ ★ ★ ★
My family and I enjoyed this property very much and will return. Its so nice ,you leave your condo and just a short walk very short to the beach. Pool was great and the beach service was awesome.
Rodolfo: Date of arrival - October 31, 2020
★★★★★
Could not have asked for a better experience. The condo is clean and well decorated. Great location with easy beach access. The complex is well taken care of and pool is big plus. The views are incredible! Hope to return soon. Thanks

James: Date of arrival - August 29, 2020
★ ★ ★ ★ ★
Kristi Date of arrival - May 30, 2020
My family and I decided to take a quick getaway for summer. We found the property and condo absolutely beautiful. We had a gulf view from every room. The owners were very accommodating in providing many necessities. The condo was very clean and comfortable. It's in a great location. Definitely would stay there again!
VRBO Review #54010766
★ ★ ★ ★ ★
Amanda: Date of arrival - October 1, 2019
We've stayed at the Mediterranea for 6 years and this was our favorite unit.
VRBO Review #28395485
★ ★ ★ ★ ★
Stephanie: Date of arrival - October 12, 2019
The condo was beautiful and clean. Beach access and private garage parking was so nice and convenient. We will definitely book again.
VRBO Review #28902087
★ ★ ★ ★ ★
Kari H: Date of arrival - August 3, 2019
The property was as listed. The pool was perfect and access across the beach was great. We had a wonderful view and enjoyed being close to many attractions and restaurants.
Review #28123458 submitted 8/24/2019
★ ★ ★ ★ ★
Wes C. Date of arrival - July 6, 2019
We have been coming to Destin for 8 years and this is the best property ever ! we loved the condo and all of the extras that were in the condo Hope to stay in thks condo again !!
VRBO Review #27263095 submitted 7/18/2019
★ ★ ★ ★ ★
Scotty - Date of arrival - June 8, 2019
We loved our condo and the beach! It was really nice! Will book again!
VRBO Review #26637526 submitted 6/18/2019
★ ★ ★ ★ ★
AMF - Date of arrival - June 1, 2019
Beautiful view! Updated condo. Would definitely stay here again!!
VRBO Review #26489314 submitted 6/8/2019
★ ★ ★ ★ ★
Date of arrival - May 11, 2019
Great place to stay! Condo is clean and comfortable. Beautifully decorated.
VRBO Review #26232395 submitted 5/21/2019
Colorful ★ ★ ★ ★ ★
Jane G: Date of arrival - March 23, 2019
An amazing two week stay with additional amenities in our beautiful colorful 2 bedroom condo!! This is our 6 th year in 2 & 3 & 4 bedroom Mediterranea condos We'll be back !! After the icy, snowy, below zero windchills in Wisconsin our Family was comfortable & happy with our stay Thankyou
VRBO Review #25730822 submitted 4/8/2019
Spring Break 2019 ★ ★ ★ ★ ★
Susan W: Date of arrival March 16, 2019
We had a wonderful week during our stay in 412D at the Mediterranea. The condo was a perfect fit for our family and the views of the ocean were incredible. We will be back for sure!
VRBO Review #25618373 submitted 3/26/2019
Great place for an early spring stay! ★ ★ ★ ★ ☆
Date of arrival March 2, 2019
The Mediterranea condos are beautiful and provide a wonderful view of the gulf. Our condo was very well maintained, clean, and updated. The gated perimeter, underground parking, beach access, gorgeous pool and other amenities were greatly appreciated. Thanks for an enjoyable stay.
VRBO Review #25453025 submitted 3/11/2019
Beautiful condo ★ ★ ★ ★ ★
Date of arrival 12/29/2018
Loved it
VRBO Review #24876405 submitted 1/17/2019
It was a great condo in a great location ★ ★ ★ ★ ★
Date of arrival September 29, 2018
Loved the condo. It had everything we needed for our week stay at the beach. It was clean and everything was in good working order. Never waited on an elevator the whole time we were there.
VRBO Review #24013204 submitted 10/9/2018
An absolute MUST! ★ ★ ★ ★ ★
Date of arrival October 21, 2017
This unit is the most beautiful and coziest space in all of Mediterranea! This unit is up to date with beautiful newly renovated decor but also keeps a cozy family beach vacation vibe. The unit is clean and contains all of the extra amenities for your vacation that you didn't even think of to pack for your trip. The room arrangements allow for a larger group if needed but also allows for privacy given the layout, 3 bathrooms, large outdoor porch, and large community space. The white sandy beach is so serene! You have chairs and an umbrella set up for you each morning with your name on it for the ultimate full beach day experience. Pompano Joes is an amazing restaurant just to the right of your beach with fun servers, great food, and live music, for a getaway experience but is never too loud to hear from the unit if you want to call in an early night in. The unit is only a short 5-minute walk to Badass Coffee for those morning birds who need their caffeine fix. The unit is also a few minute drive to a wide array of dolphin cruises, mini golfing, grocery stores, or any other vacationer's needs. The unit's gym was also never busy and gave an extra space for burning off those beach margarita calories if it was too warm to run along the gorgeous coastline trail. Overall, best vacation my family has ever taken in Florida. I would recommend this unit to you, your family, and friends in a HEARTBEAT.
VRBO review #22883846 submitted 7/24/2018
Very Nice Property ★ ★ ★ ★ ★
Date of arrival May 12, 2018
Unit was well equipped, large, and beautifully decorated. The grounds' crew does an excellent job of maintaining the property. Close to Destin and Sandestin. Convenient to shopping, parasailing, dolphin watching and other activities. We thoroughly enjoyed our stay here and would do so again.
VRBO Review #22223352 submitted 5/30/2018
Mediterranea is my favorite property and this is my favorite unit there. ★ ★ ★ ★ ★
Date of arrival April 21, 2018
Best views. Spacious. Well appointed. Colorful, tasteful. I wouldn't change a thing.
VRBO Review #22008549 submitted 5/9/2018
Mediterranea 412D Stay ★ ★ ★ ★ ★
Arrived March 17, 2018
My family and I had the best time here on our vacation! The condo was amazing and the views were spectacular. I would definitely stay here again.
VRBO Review #21577964 submitted 3/27/2018
My family of 5 just completed our week here, and things could not have been any better. The weather was great, and the views from the three balconies were spectacular. Our kids had so much fun playing in the Gulf, and even more in the spacious pool and hot tub. The unit had all the creature comforts of home, my kids appreciated the multiple outlets for their games, IPads, etc., and we put the full washer and dryer to good use. All of us agreed this was one of our best trips to the Gulf, and a lot of that was a result of how nice this unit and this complex is. We will be coming here again next year for sure!
We just returned from 7 days on the sunny, white shores of Destin, and everyone agrees this was our best trip yet. We keep coming back to Scenic 98 because we like how quiet and family oriented it is, 2015 did not disappoint. The grounds and large pool there are so well done (there was always a chair or lounge available for us after returning from the beach), and we had a few days where the Gulf was a sheet of glass, just perfect to swim in. Having the umbrella and chairs waiting for us every day was wonderful. This condo has been upgraded quite nicely, and the kitchen has all the comforts of home, including plenty of wine glasses for my afternoon indulgences. My husband and kids loved all the plugs for their games and tablets too. The beds were all quite comfortable, and it was a relief to have that third bath when things got hectic in the am. This is the first time we have stayed at Mediterranea, and we will surely come back here for our next trip to the beach, hopefully right in this same unit. Very nice accommodations, thank you.
Questions on this property?
Mediterranea 412D Condominium Rental
2 Beds | 2 Baths | Not Pet Friendly
Call Renee or Laura
(850) 269-3342 (local)
or send this short form