2022 July 4th Fireworks: When & Where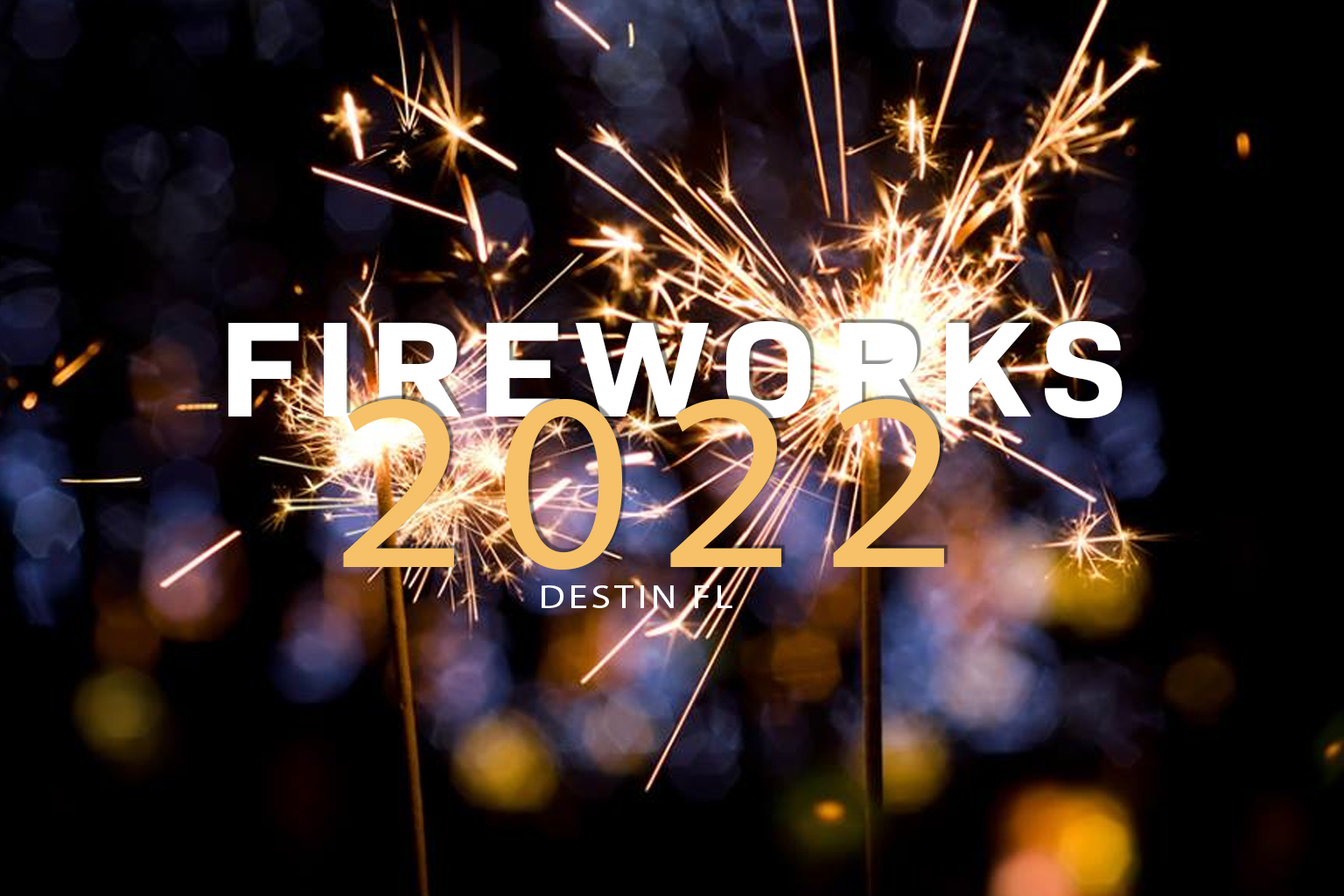 Celebrating Independence Day along the Emerald Coast means cookouts, cold drinks, live music and the aroma of fresh fireworks. Are you ready??
July 4th fireworks shows in the Destin area will take place at Baytowne Wharf, Sandestin Beach and Destin Harbor. There are also shows in Fort Walton Beach, Navarre Beach, Seaside and Alys Beach. No matter where you end up, plan to arrive early and be ready for some crowds, unless you decide to just take a chair out to the beach by your condo and watch people set off their own – always a good time too!
Believe it or not, you can most likely enjoy an array of fireworks from the comfort of your own balcony. People bring their own fireworks and shoot them off at the beach, even though it is "illegal" to do so. Some of the communities along Miramar Beach also have their own "private" shows that you can enjoy.
Baytowne Wharf – Monday, July 4th 2022 at 9:15 pm
Families love this spot. There is a full day of activities and live music leading up to the grand fireworks show which is synched to music throughout the Village.
The show is about 15 minutes long and can be viewed easily from many vantage points in the Village and even the Pier.
Hilton Sandestin Beach Resort – Monday, July 4th at 9:00 pm
You can catch this 10 minute show from anywhere along the surrounding beach areas in front of the Hilton and is unique in that it is launched from the beach.
If you're not a guest at the Sandestin, consider eating dinner at one of their restaurants and walk to the beach from there.
Destin Harbor – Monday, July 4th 2022 at 9:00 pm
This fireworks show is different than the weekly one shot off from Harborwalk but the viewing area is the same and it is twice as long, synched to music simulcast on Z-96, 96.5FM.
If you want to be close to the launch site at a quiet beach spot, head to Norriego Point. Parking is limited to a small lot at the Point or street parking on Gulf Shore Drive so plan to get there early, carpool or wear good walking shoes!
If you want to catch it from the water, you can hop on the Destin Water Taxi from multiple spots along Destin Harbor and hop off at Norriego Point. Or stay on the water in a rental boat or book a spot on one of the many Fireworks Cruises offered. Here are a few to get your search started:
Fireworks Cruises – This option literally gets you on the water for the event!
– SunVenture Cruises https://sunventurecruises.com/
– SunQuest Cruises aboard the Solaris https://sunquestcruises.com/
– Southern Star Dolphin https://southernstardolphincruise.com/
– Screaming Eagle Sports https://www.destinspeedboat.com/cruises/firework-cruise/
– Destin Snorkel https://www.destinsnorkel.com/fireworks-cruise/
– Rent your own boat
—–Destin Vacation Boat Rentals https://www.destinvacationboatrentals.com/fireworks-cruises/
—–Luther's http://lutherspontoon.com
—–Sea Chase Watersports http://www.seachasewatersports.com/
—–Boogies Watersports https://boogieswatersports.com
—–Dockside Watersports https://boatrentalsindestin.com/
If you happen to stay in the Harbor to catch the show, be sure to stick around and catch the life fire spinning show on the main stage!
Destin Commons/Smoke on the Coast –  Sunday, July 3rd at 9:30 pm
This show is part of the Smoke on the Coast BBQ and Fireworks Festival that is returning this year! Because it is at the Commons, you do not need to participate in the Festival to enjoy the show. And it is an impressive 12 minute show, also synched to music playing throughout the venue. I like this option as a kick off to the weekend's festivities!
Other fireworks spots to consider are:
Seaside – Monday, July 4th at 8:30 pm
Alys Beach on 30a – Monday, July 4th at 9:00 pm
The Fort Walton Beach Landing – Monday, July 4th at 8:45 pm
Navarre Beach Pier – Monday, July 4th at 9:00 pm
I sincerely hope this posts helps you enjoy an epic July 4th along the Emerald Coast!
*The information included in this publication does not represent any affiliate partnerships between the businesses mentioned and Beach Condos in Destin. The businesses listed are not all-inclusive and their offers may change at any time. Please contact the individual business location directly with your questions.