Beach Retreat 309 Condominium Rental
3 Beds | 2 Baths | Pet Friendly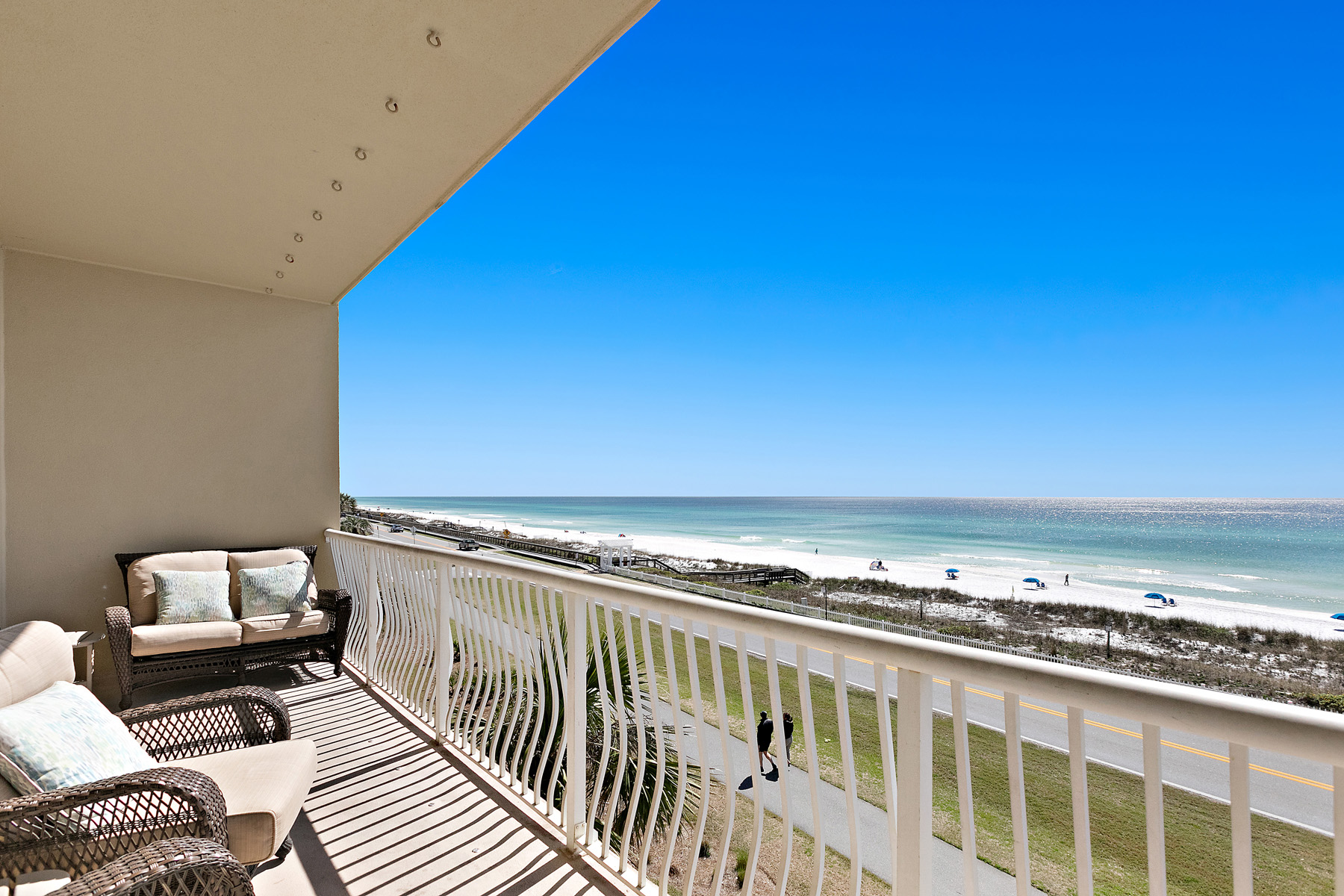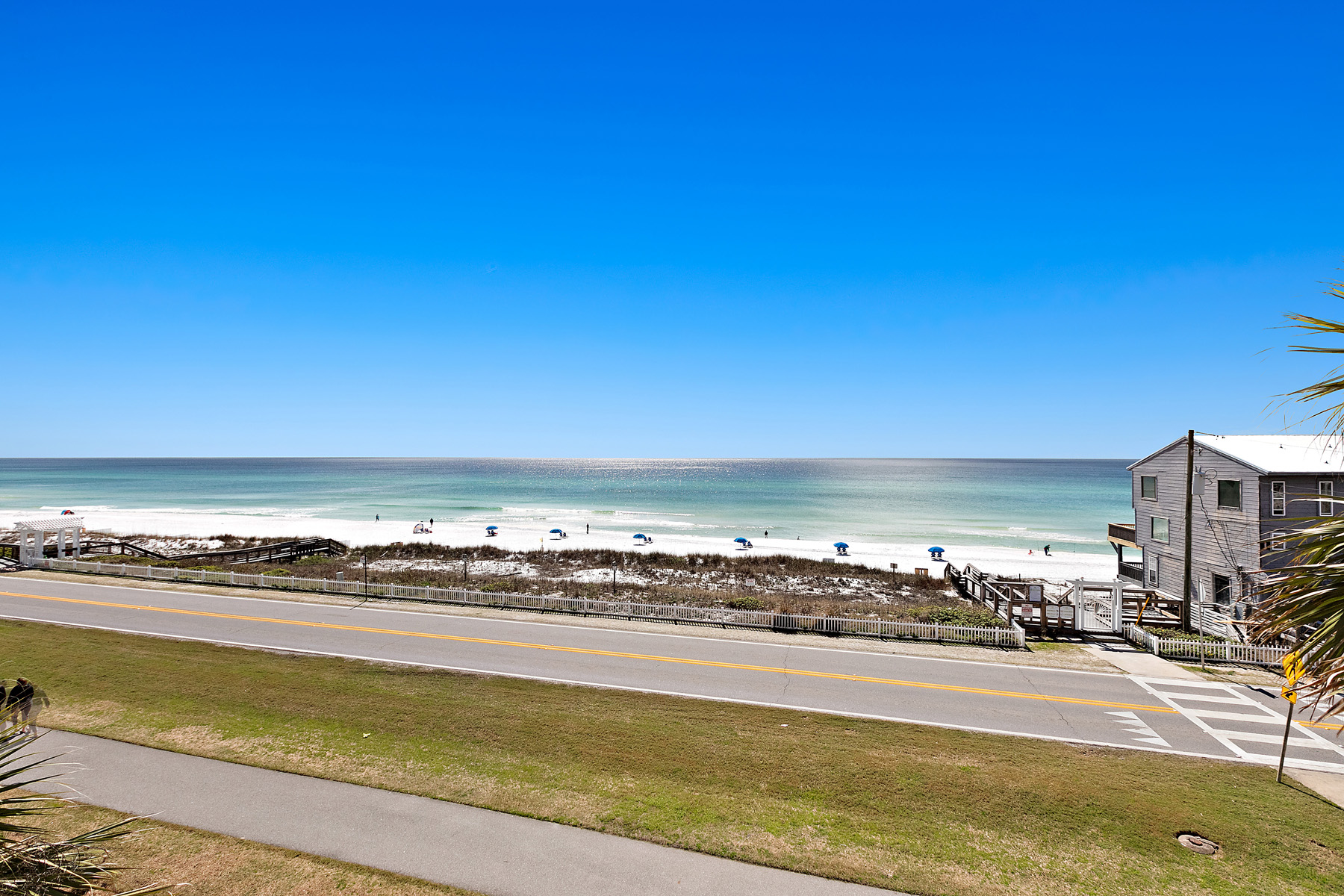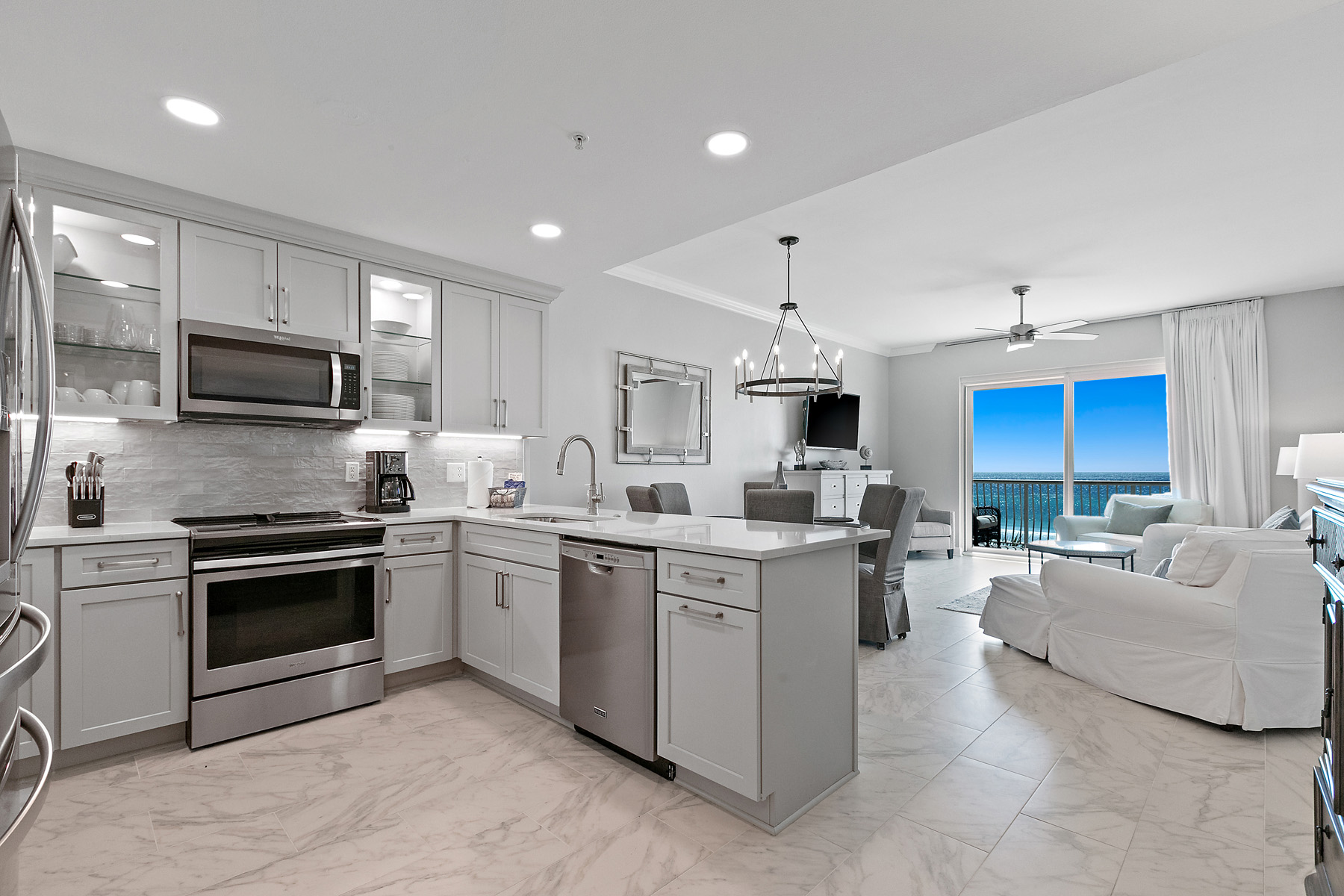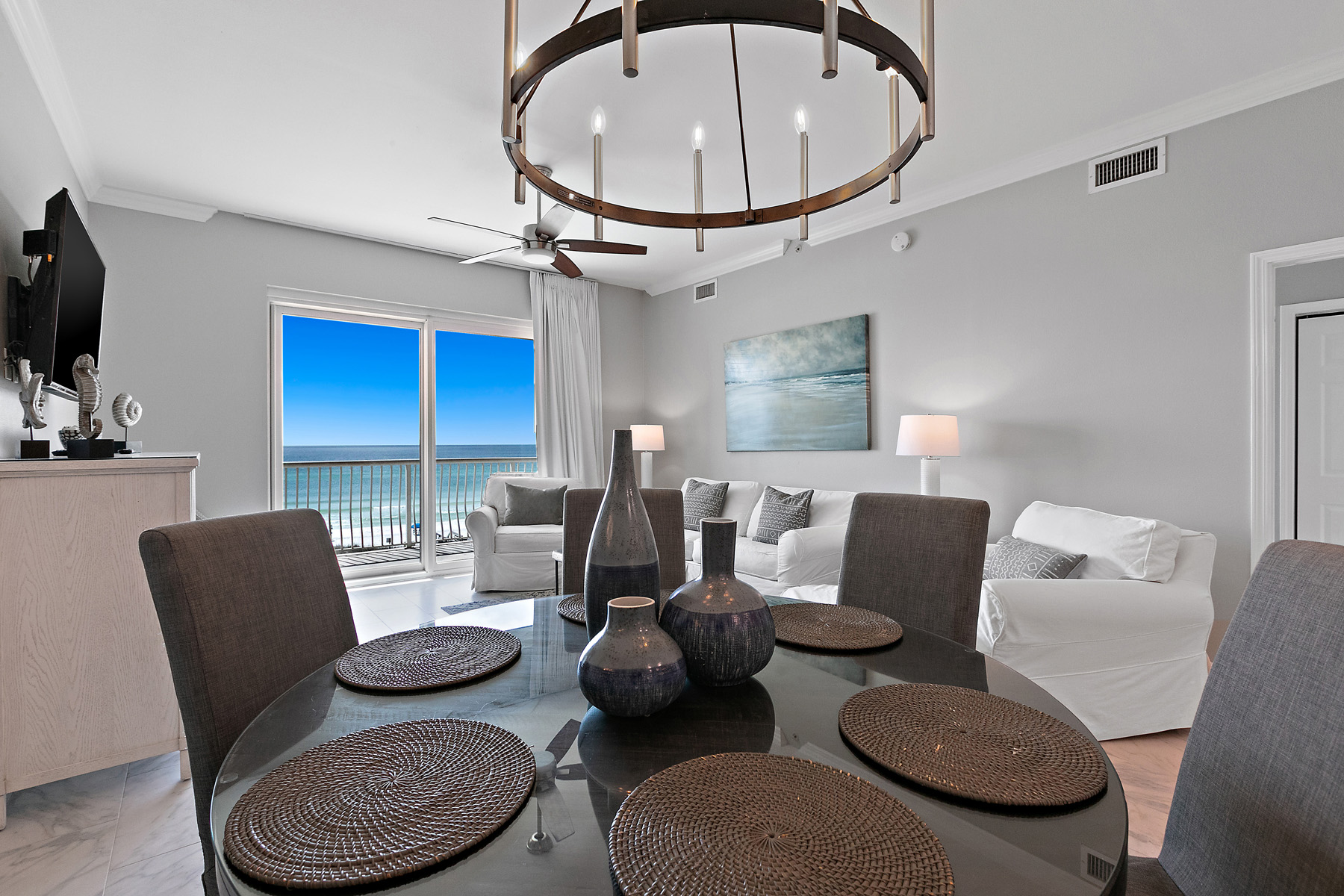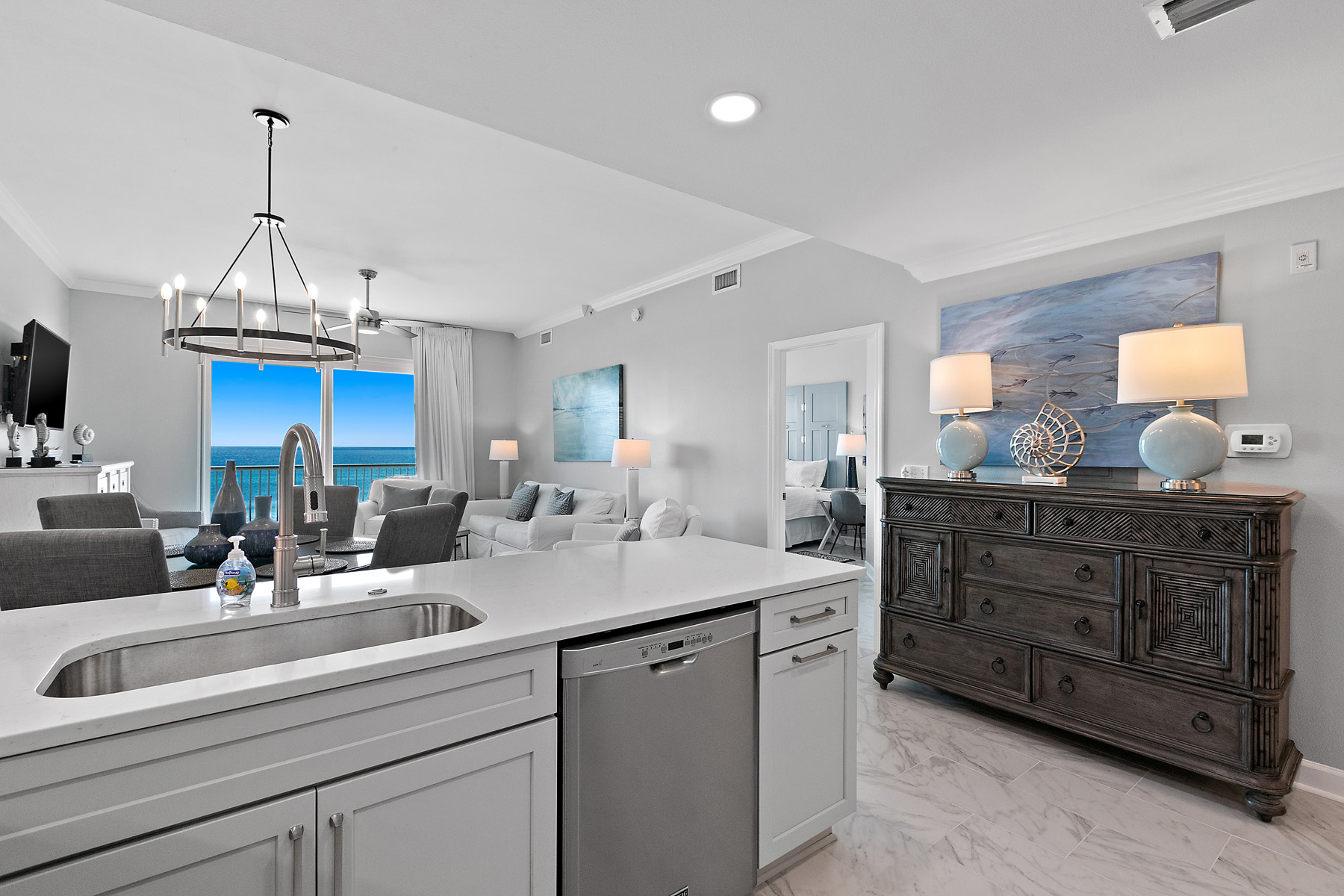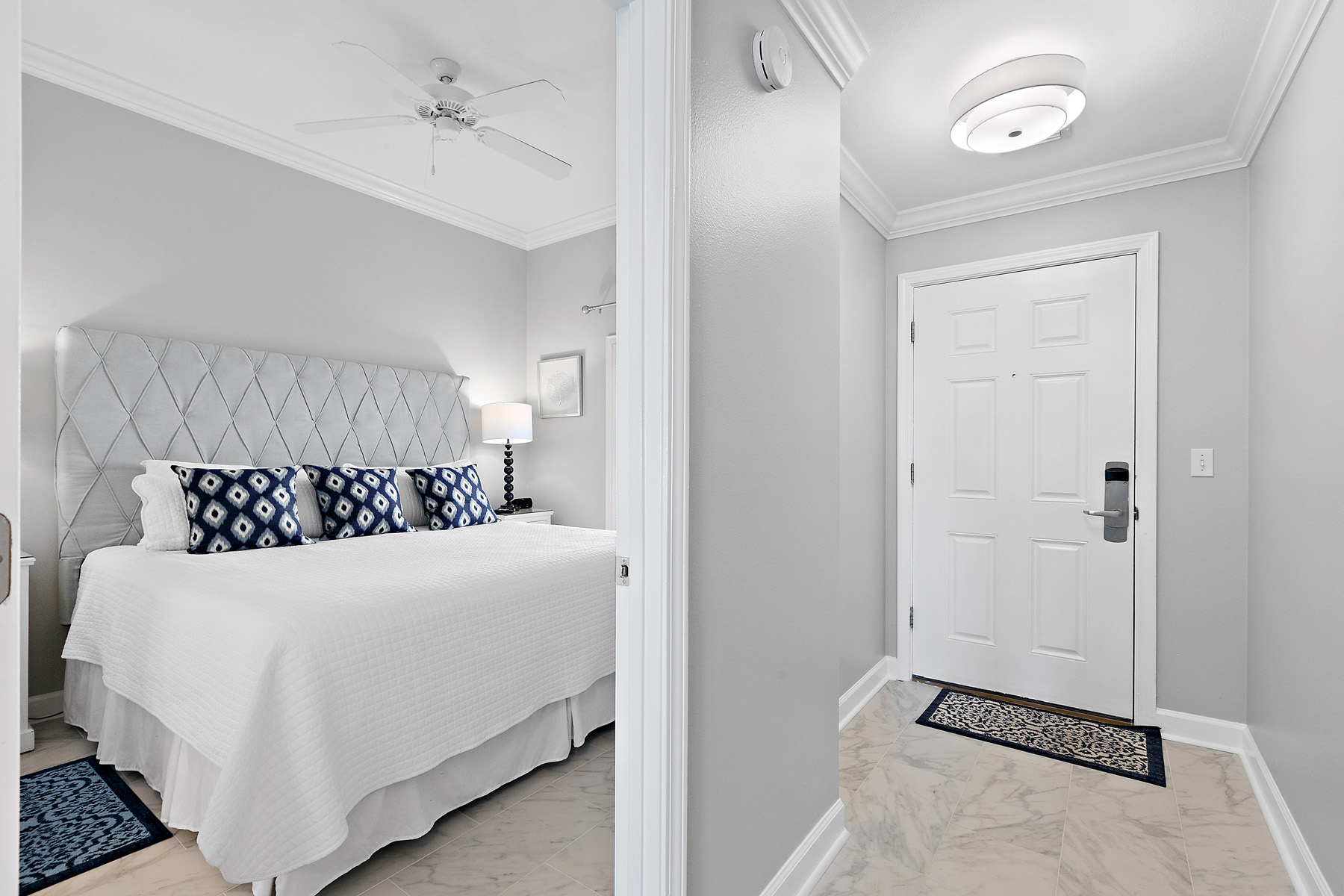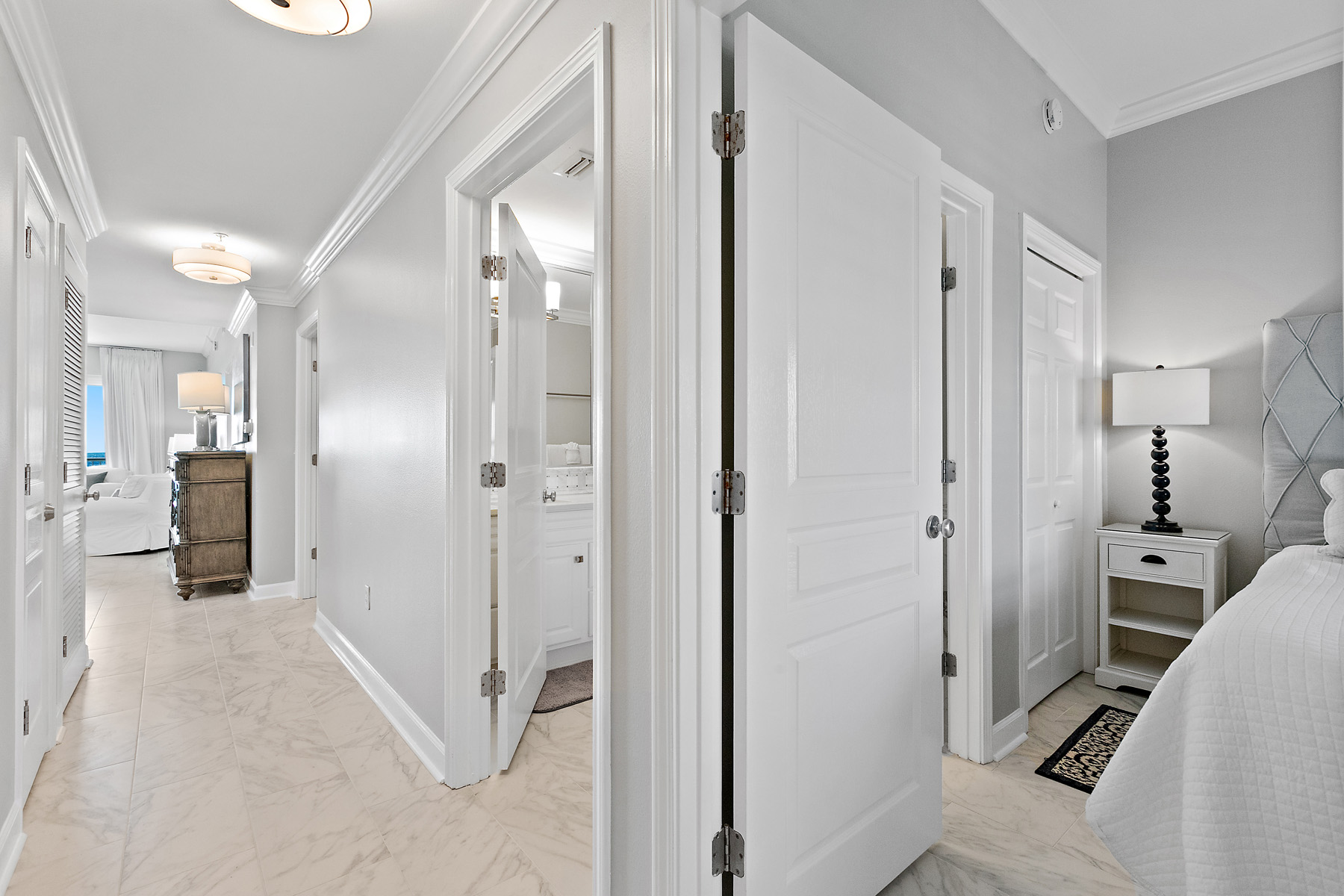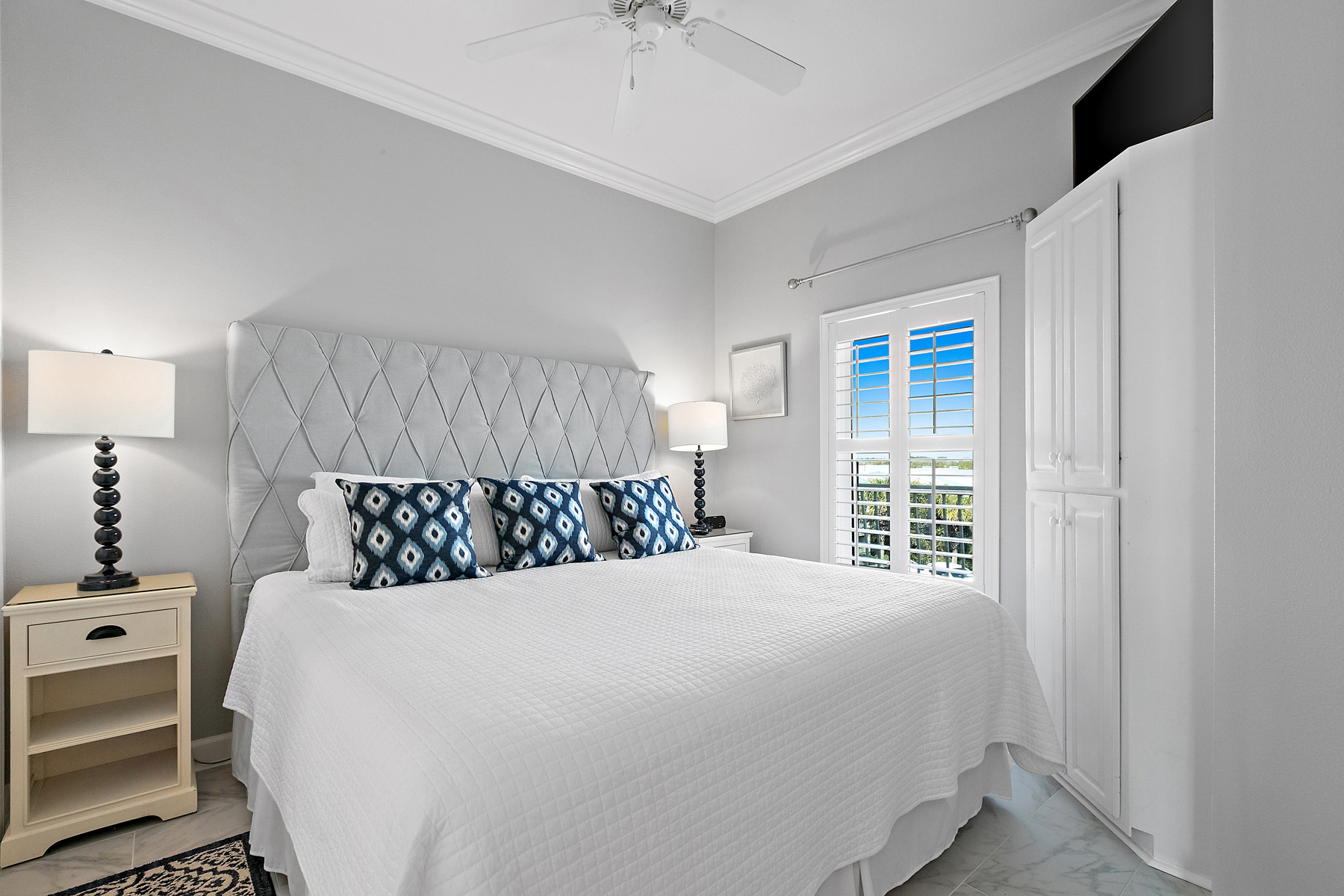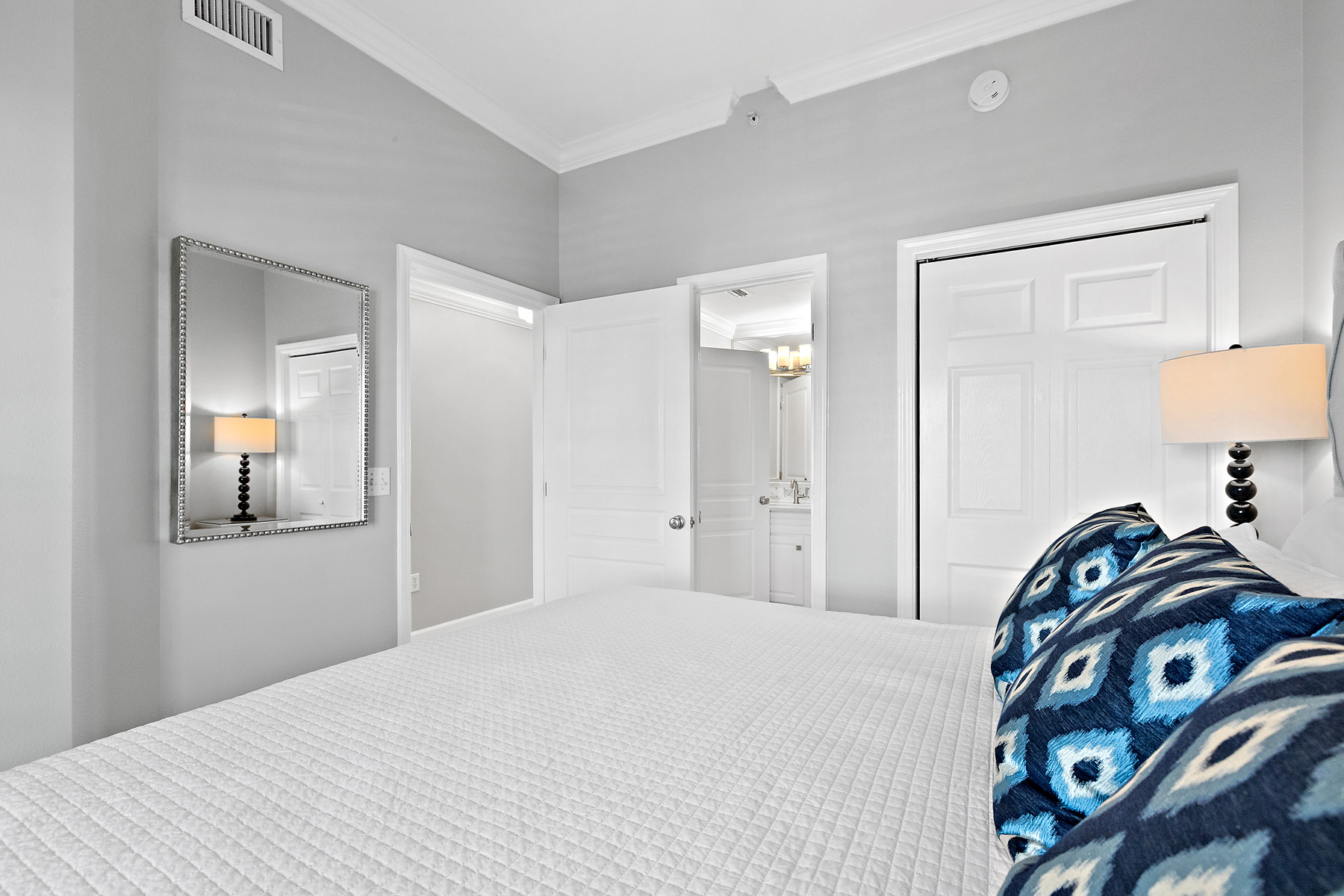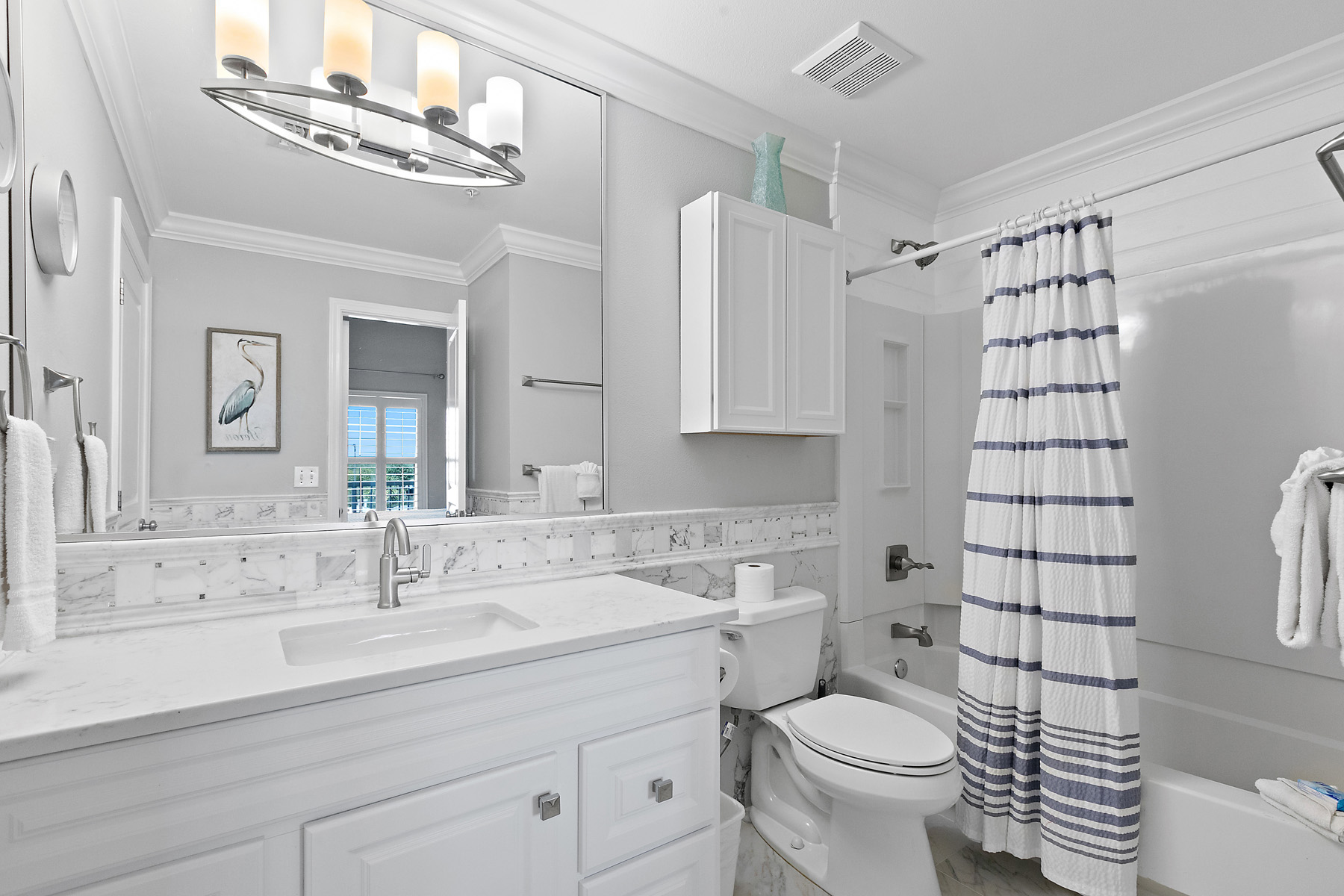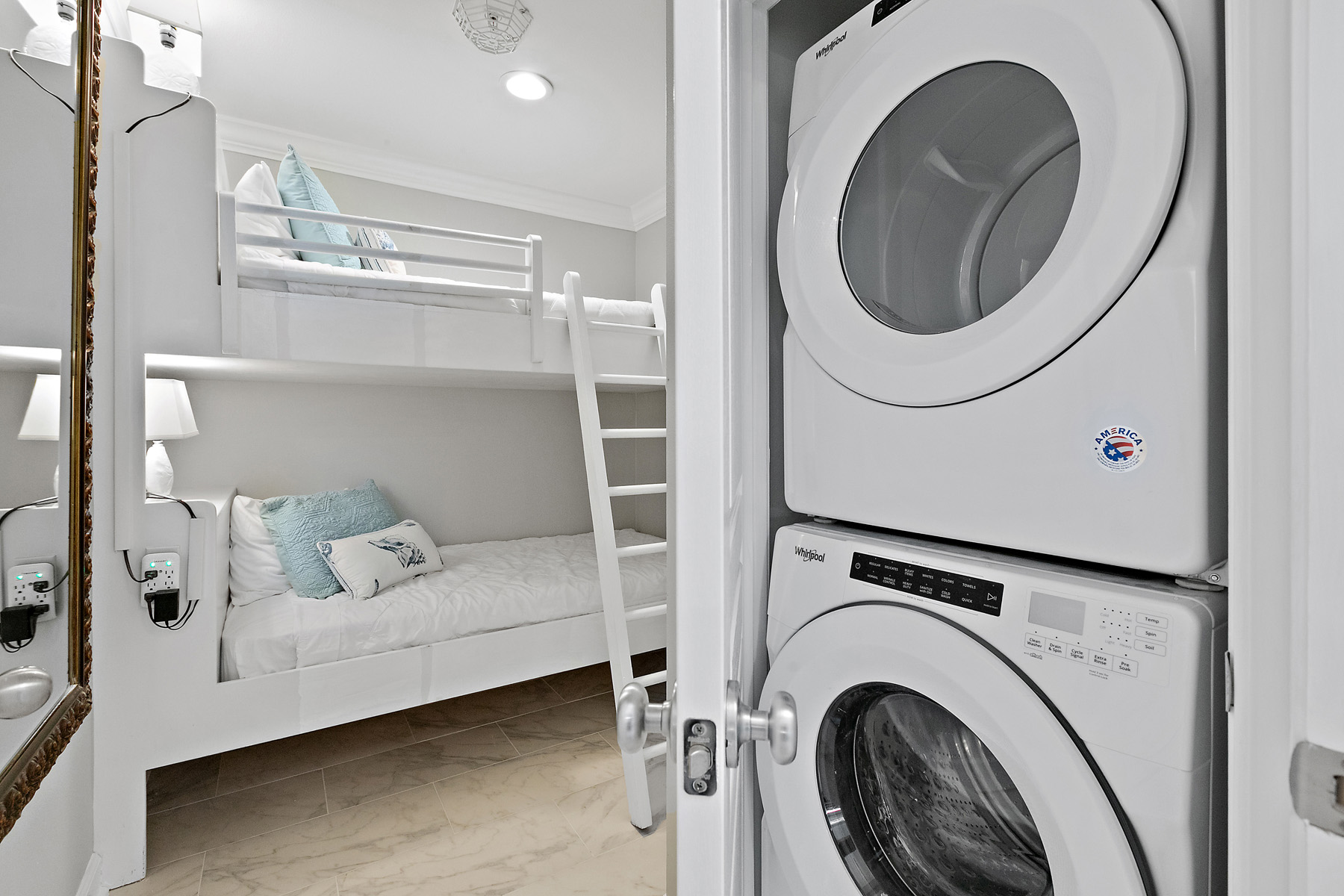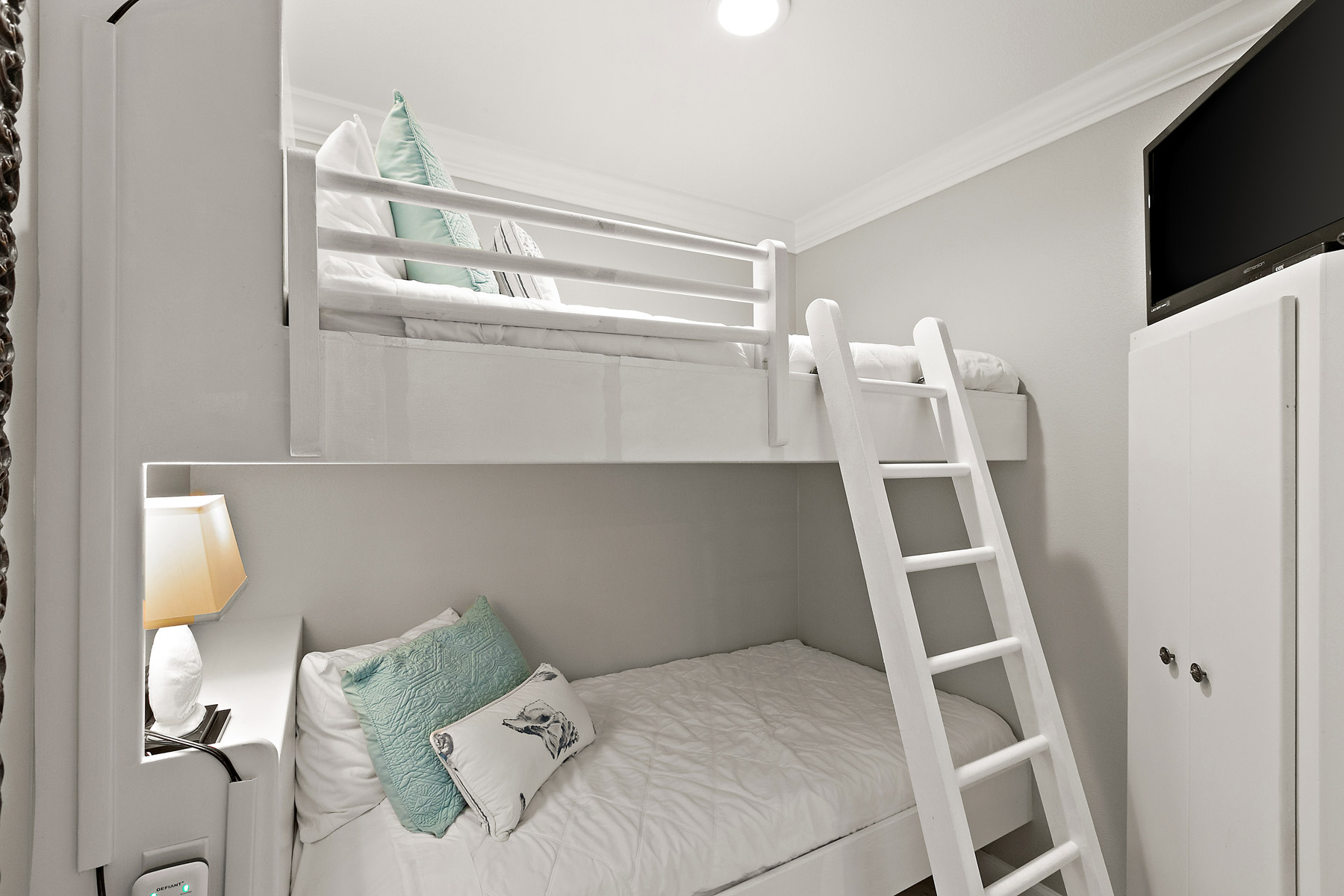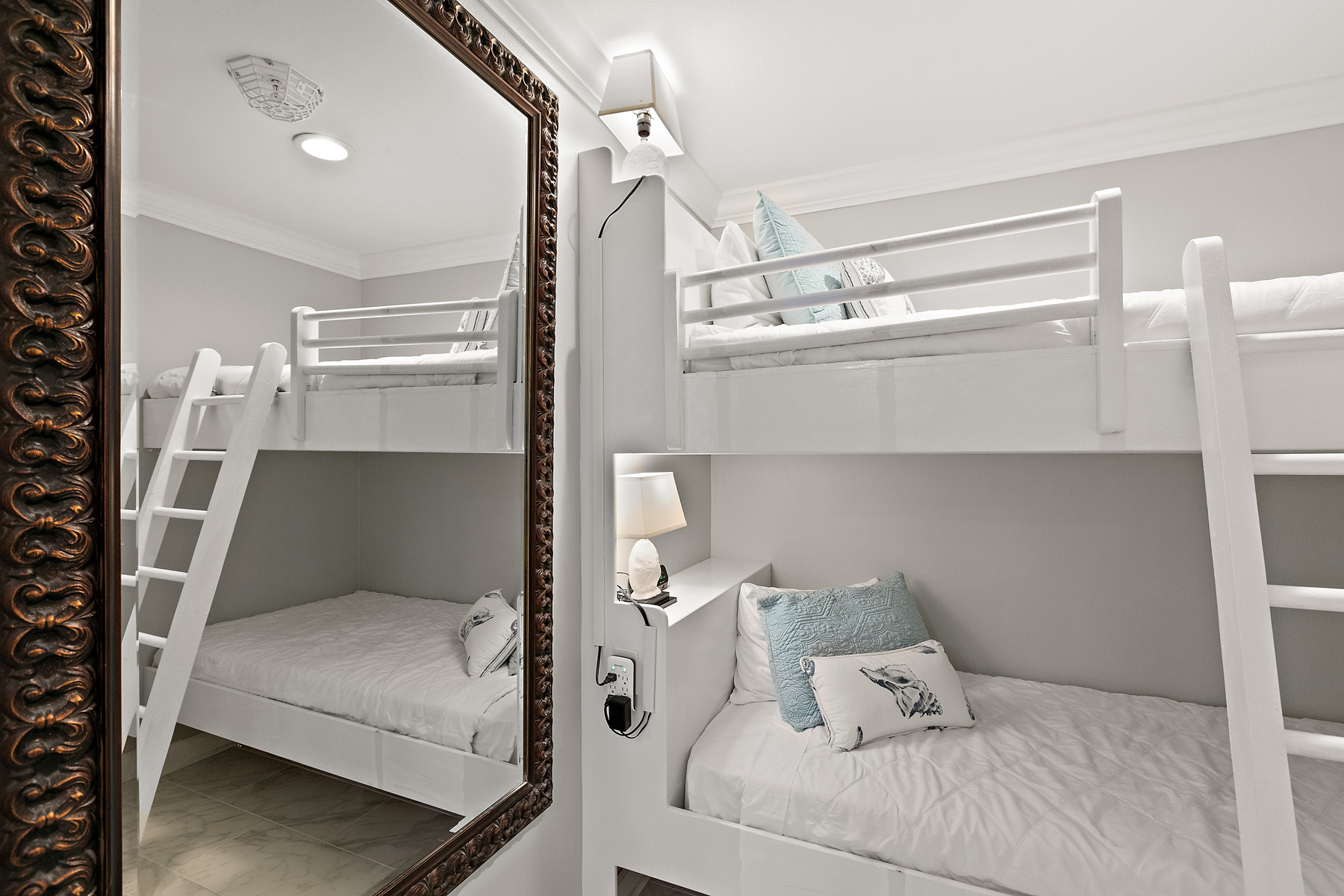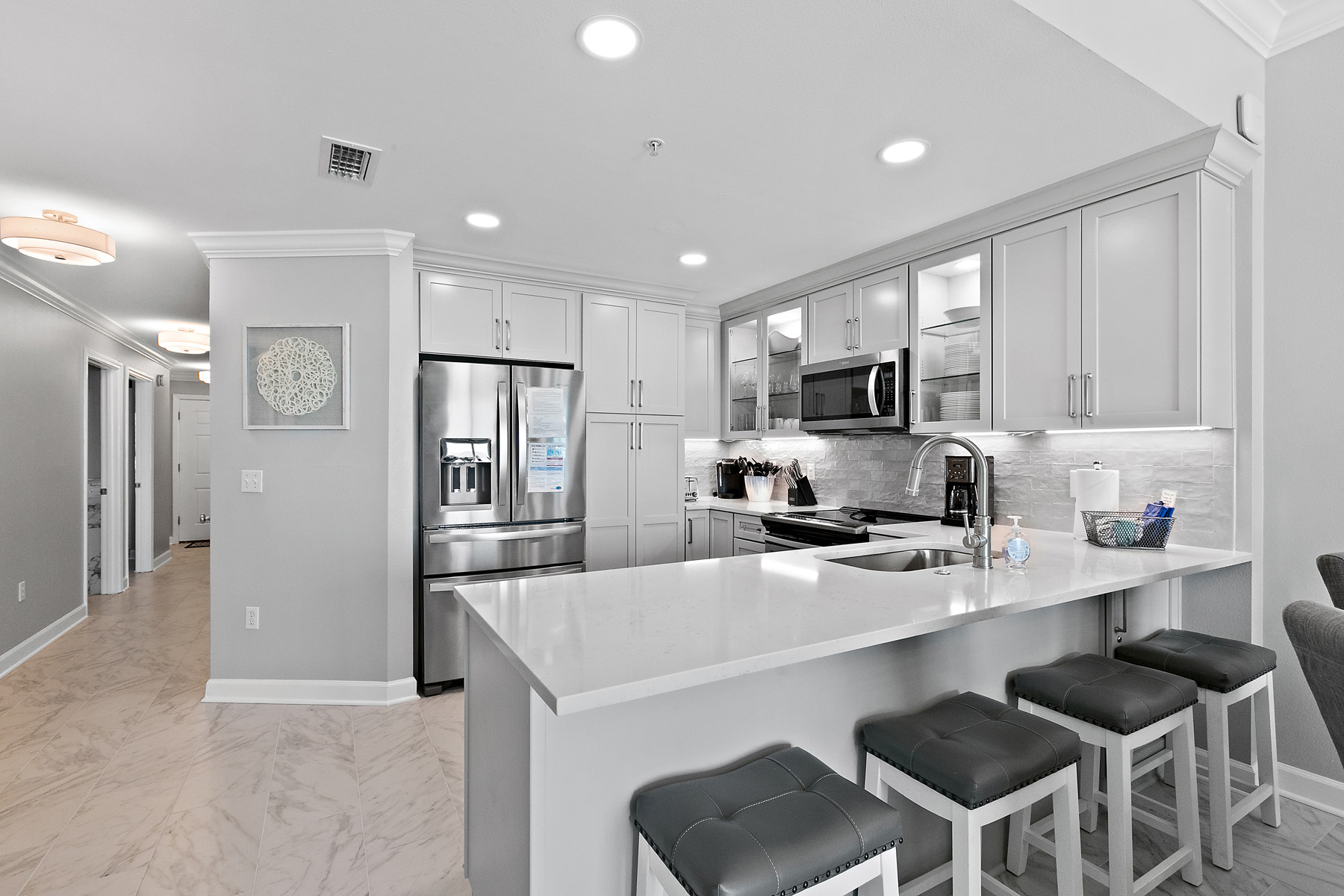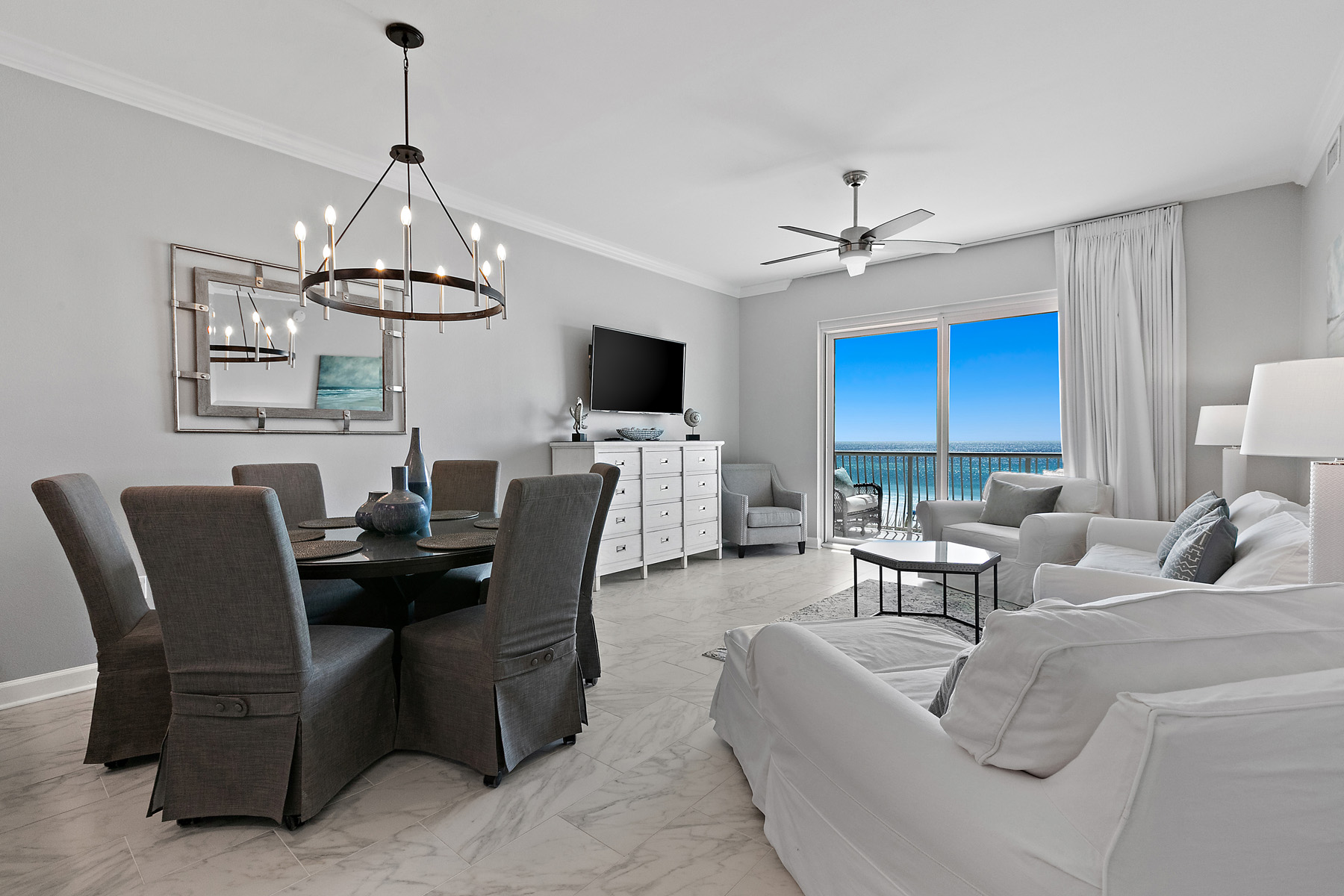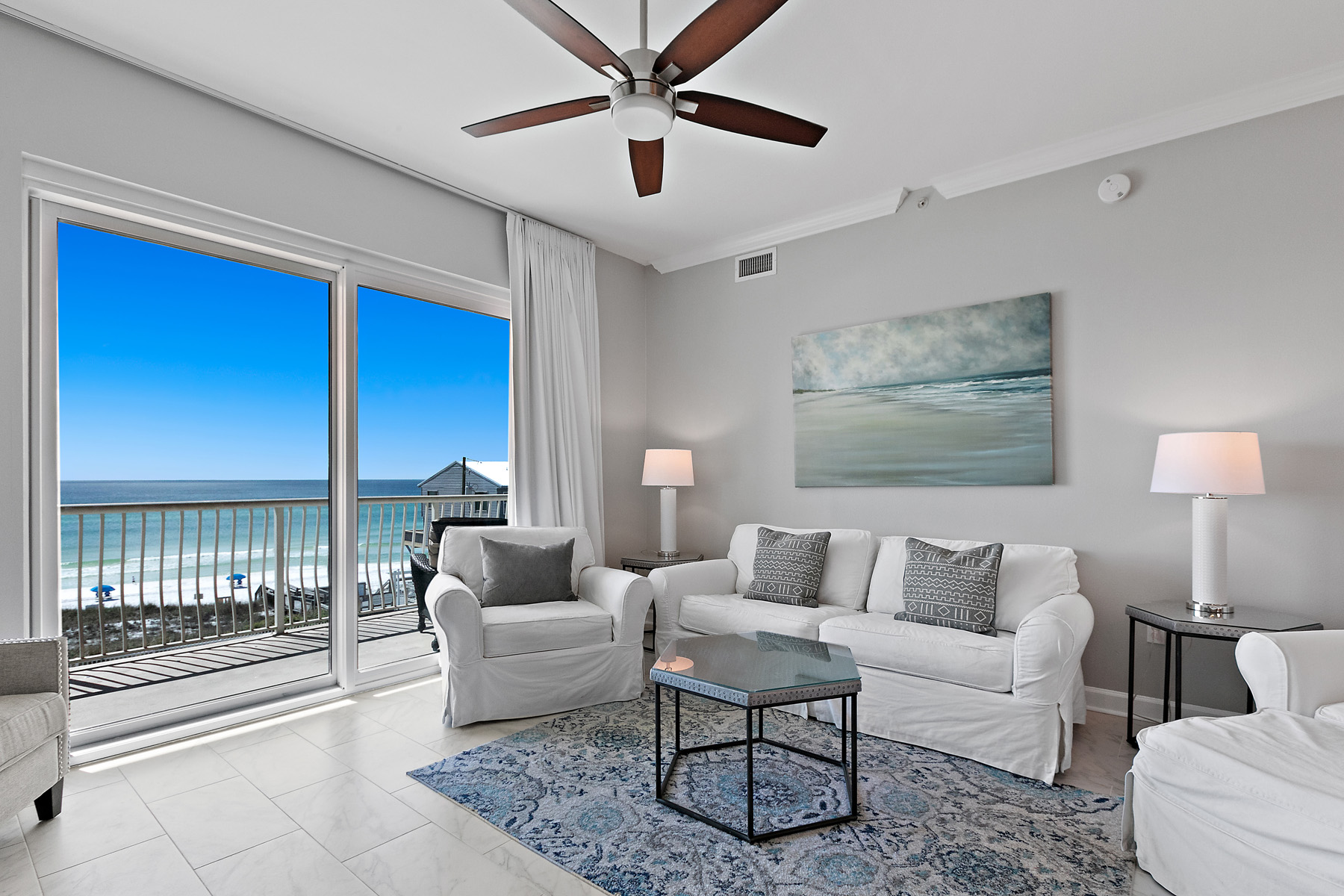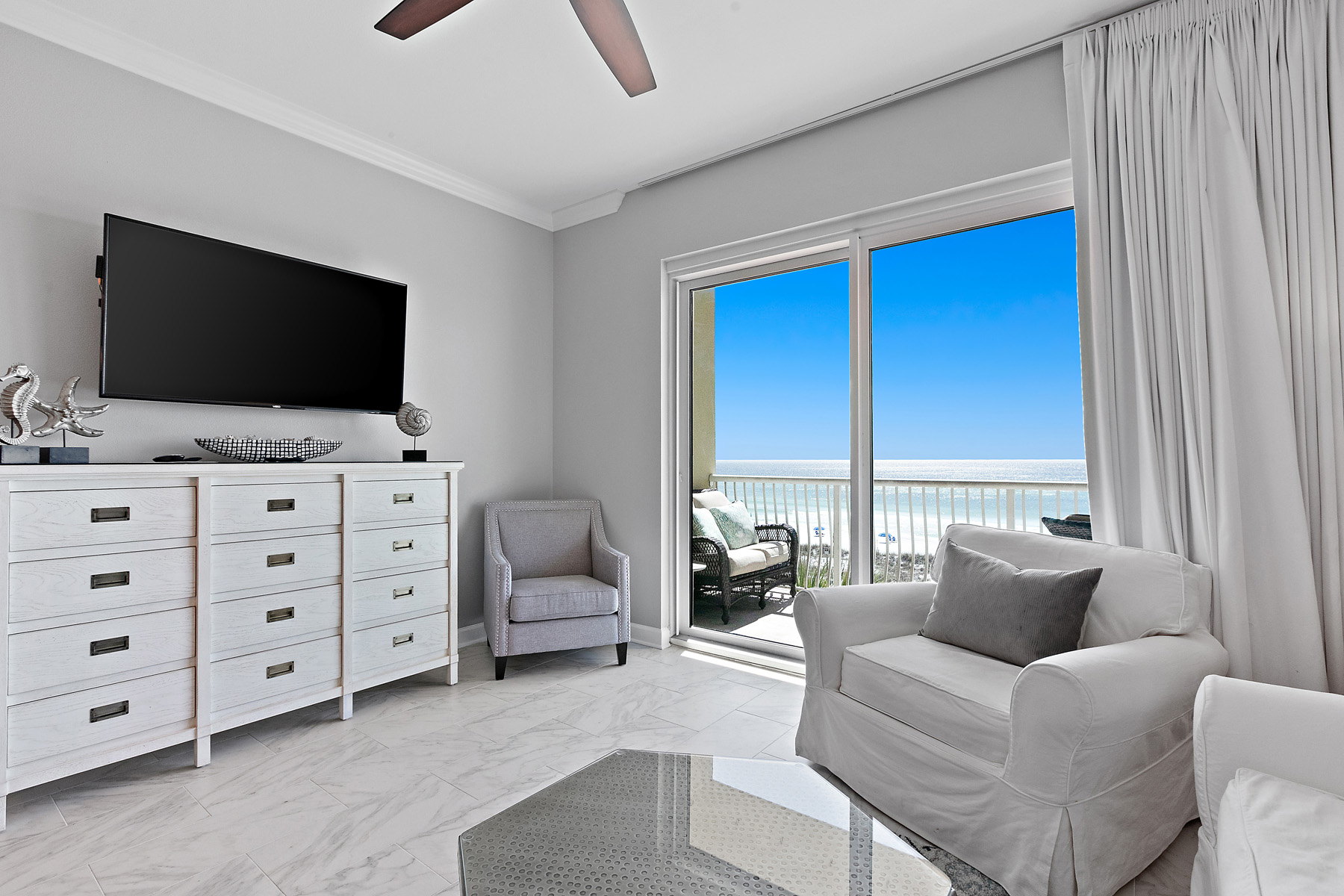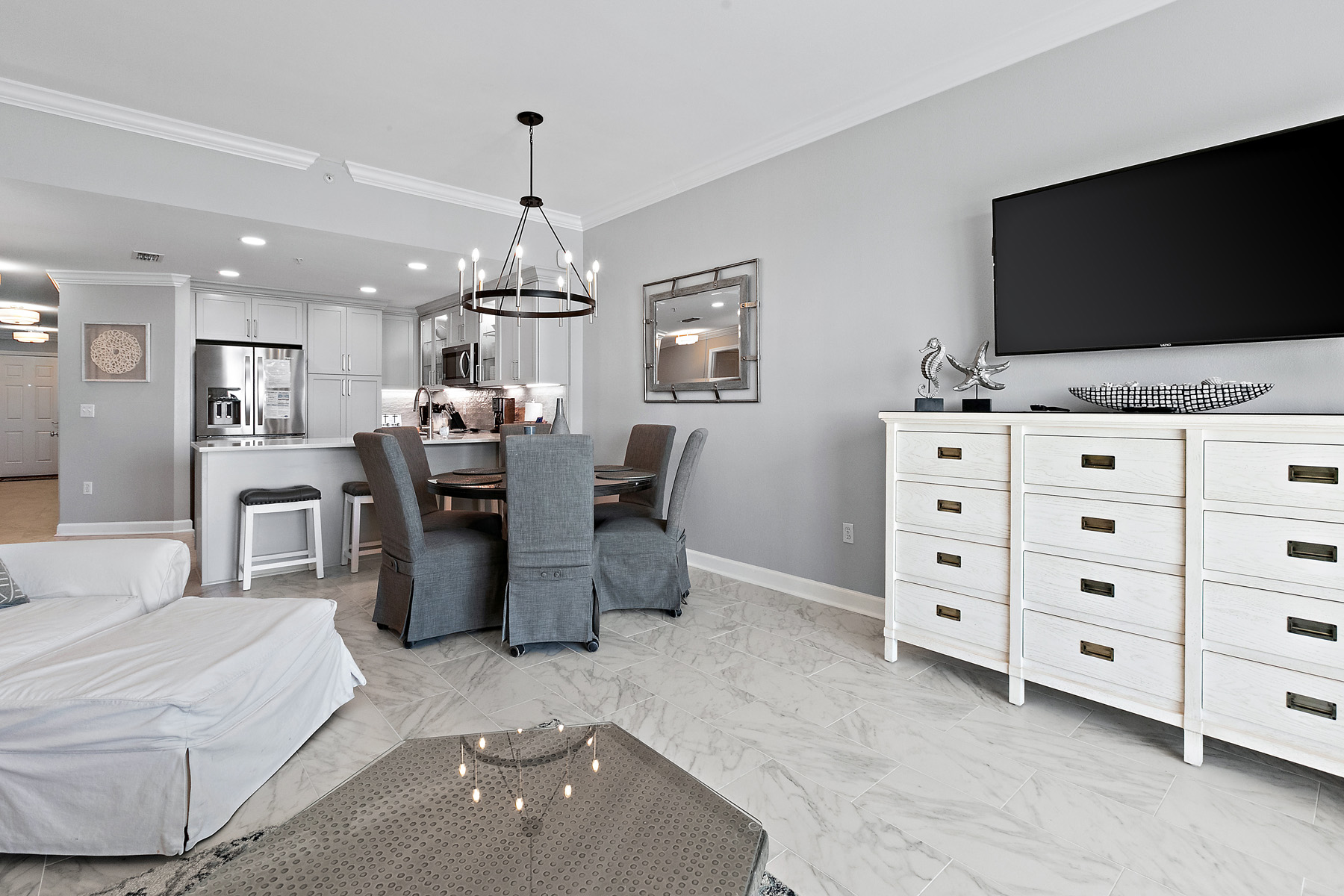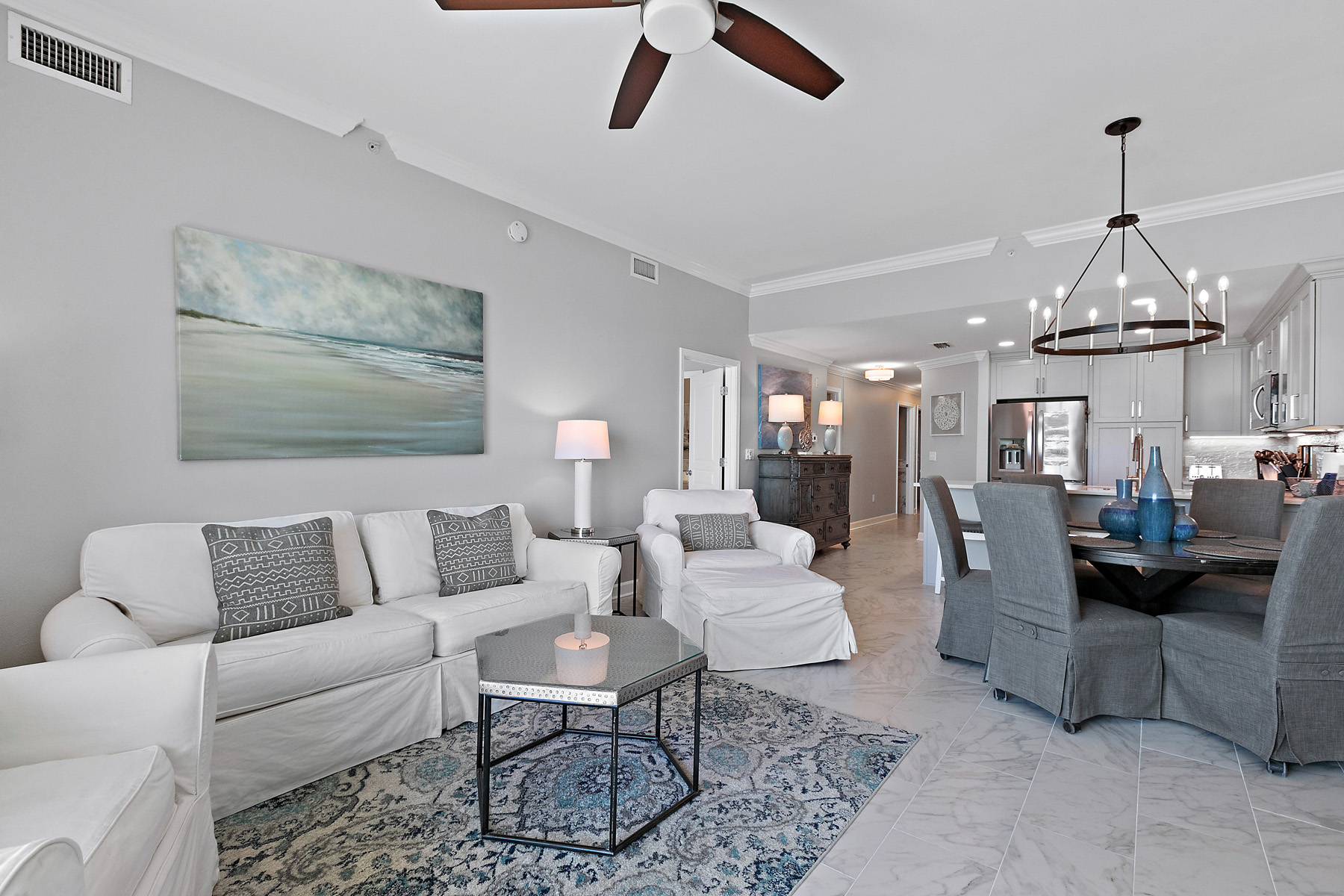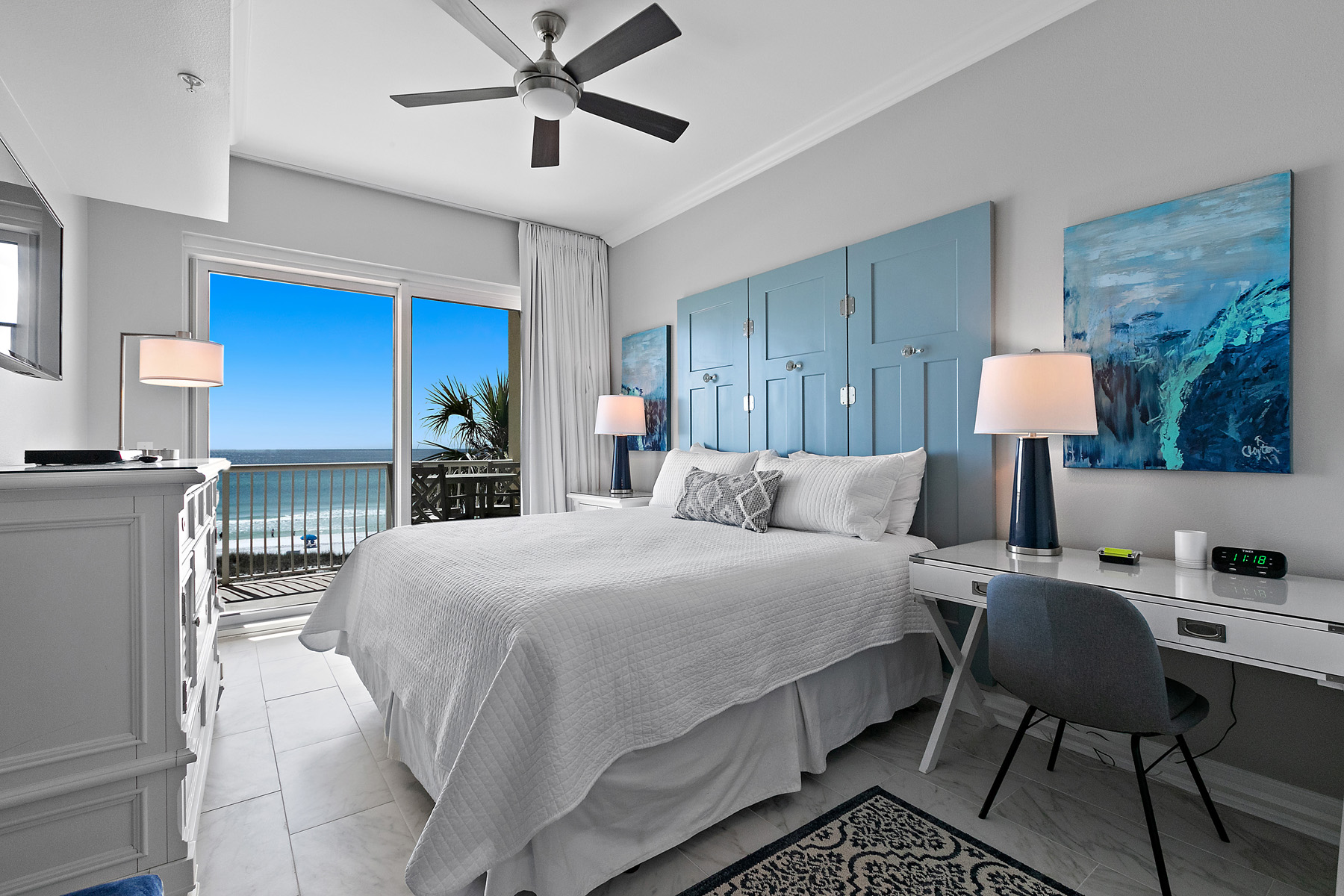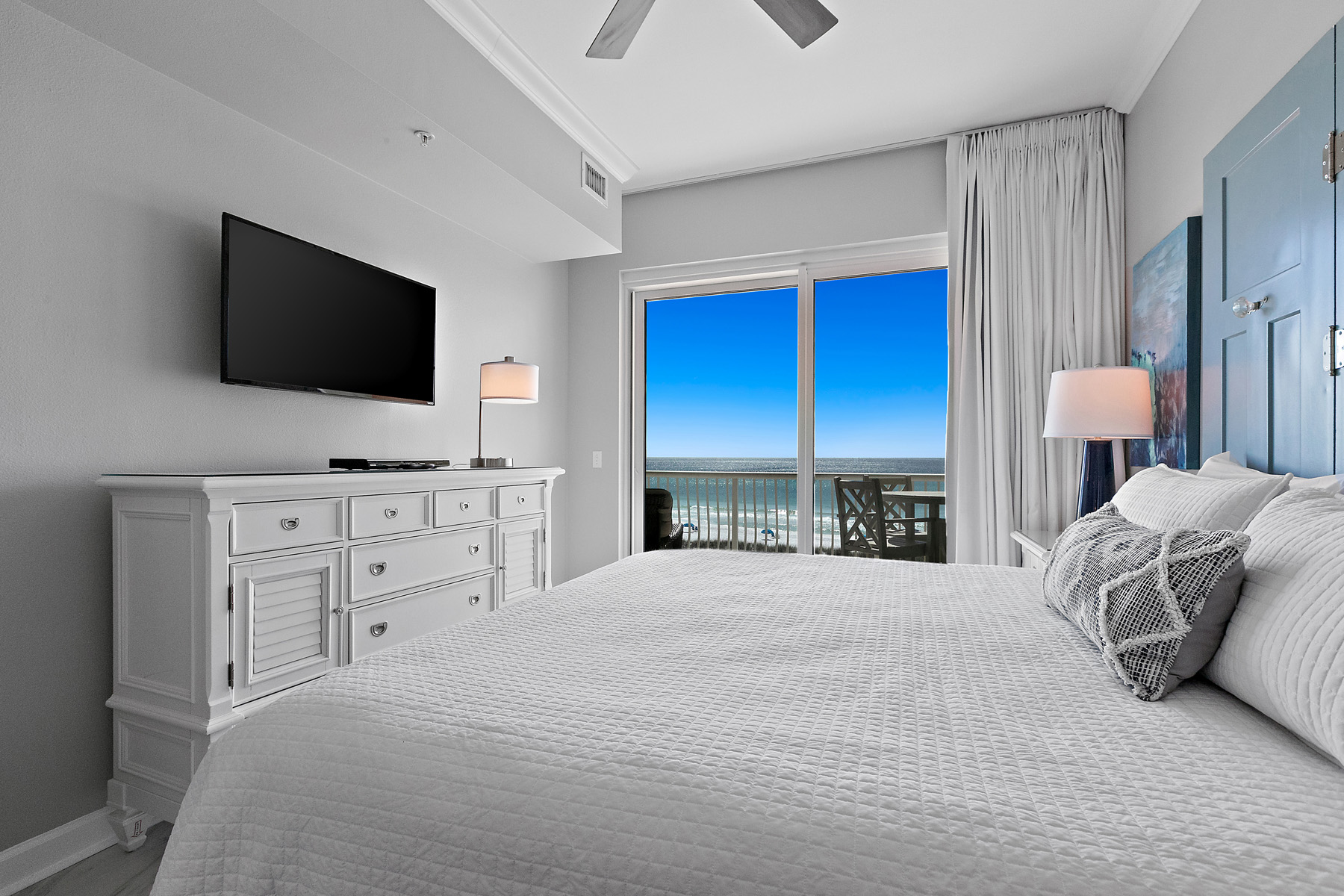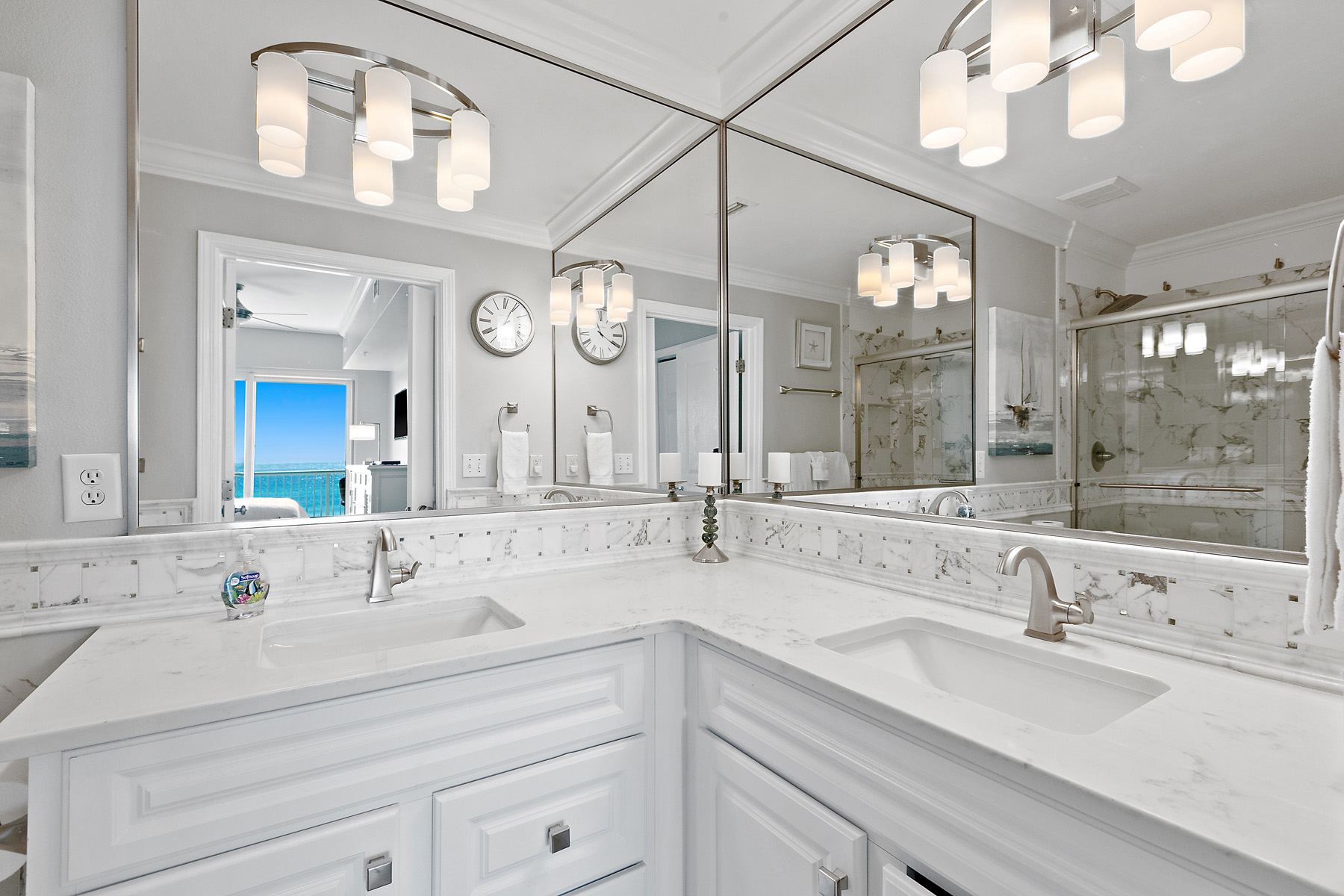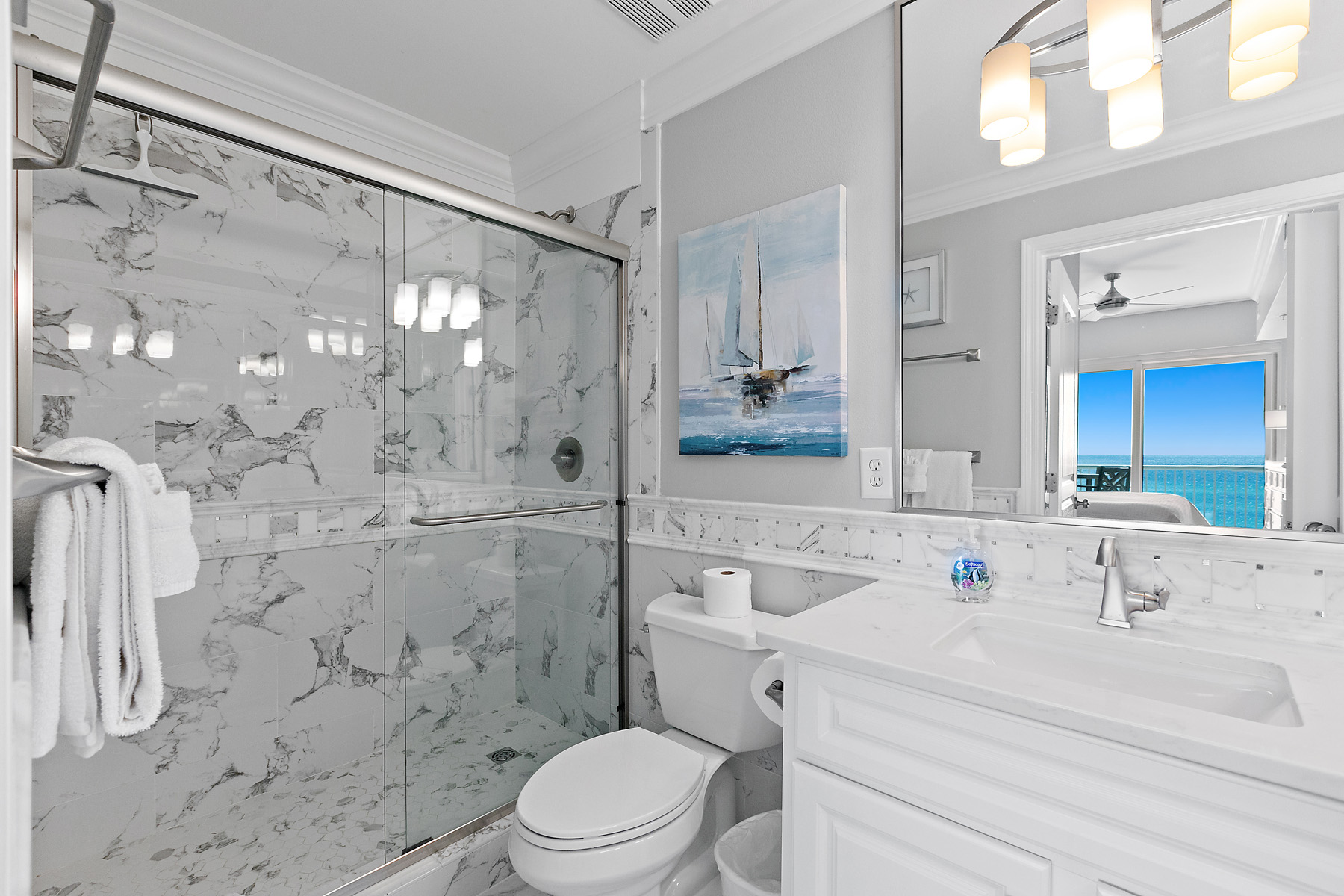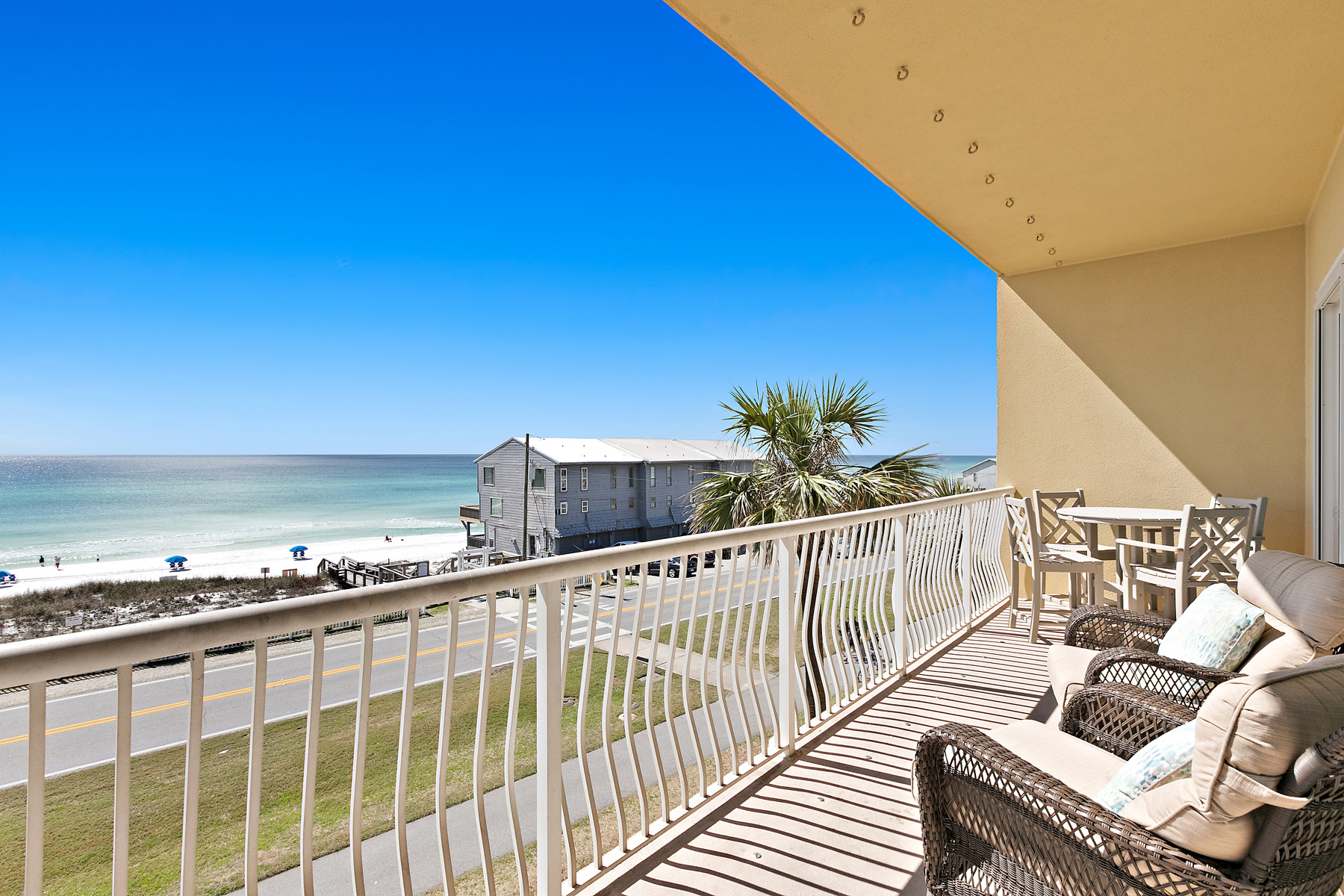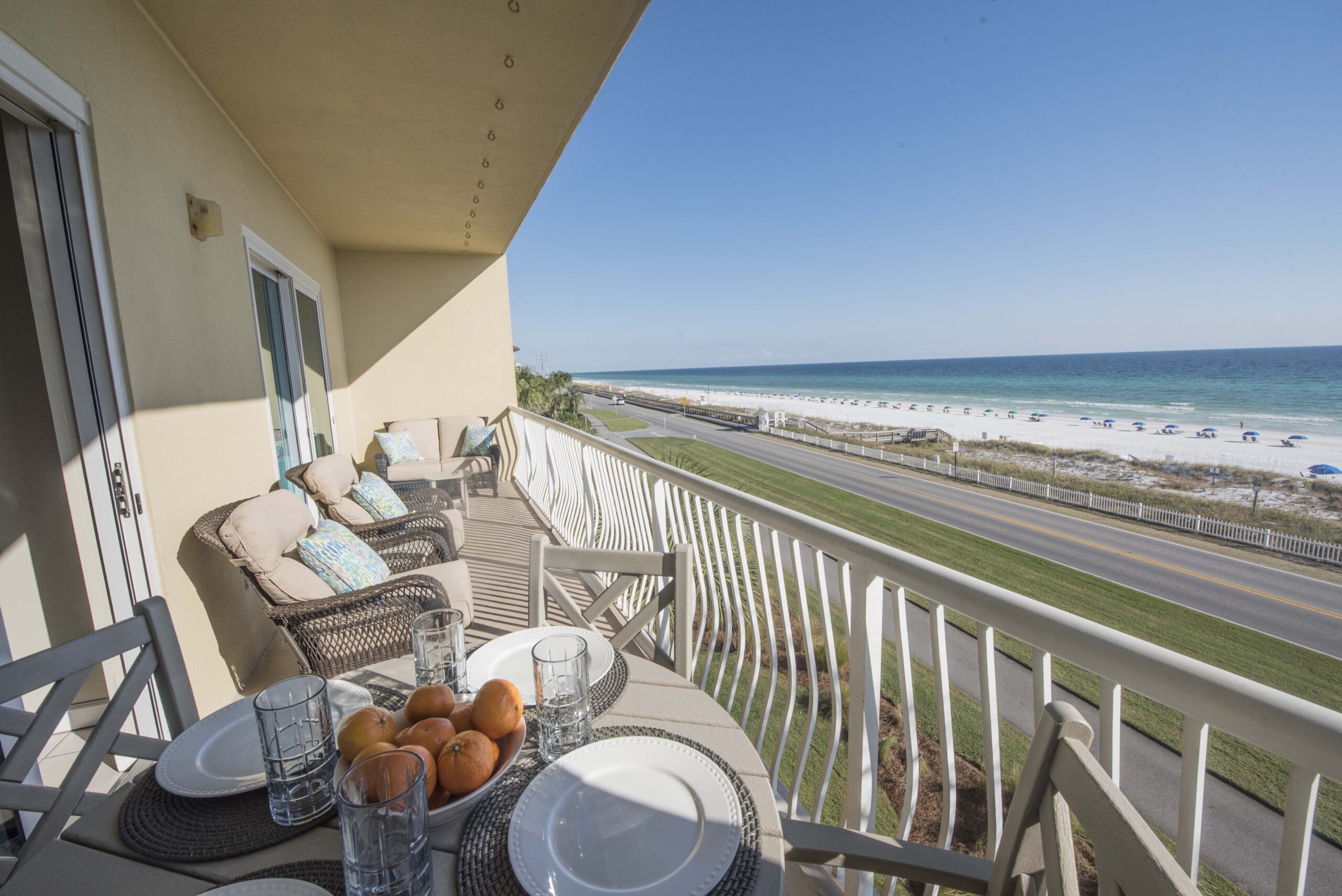 Description
3 Bedroom | 2 Bath | Accommodates 8 | Pet-Friendly | Gulf-Front Rental
All of our properties require a Saturday-Saturday stay during Summer and other peak times of the year.
Master Bedroom 1: King bed, balcony access
Master Bath 1: Private, ensuite full bath with walk-in shower
Guest Bedroom 2: King bed
Guest Bath 2: Shared access ensuite full bath with shower/tub combo
Guest Bunk Bedroom 3: Twin bunks
Living Room: Queen sleeper sofa
UNIT FEATURES
Large, 27′ Gulf-front balcony with great views of the Emerald Coast
Living Room and Master Bedroom with full Gulf views and balcony access
3rd floor unit close to elevators and stairs
Bunk bedroom is a small room but contains a TV and small dresser and laundry access
Fully stocked, upgraded Kitchen includes plates, cookware, utensils, dishwasher, self-cleaning oven, microwave, toaster, blender, coffee maker, etc.
Full-size stacked Washer and Dryer
Wireless, high-speed Internet and Cable TV
Towels and linens provided (beach towels not included)
Beach Service included in season (mid-March through October 31), with umbrella and two chairs
Pet-Friendly — Well-groomed, well-trained, non-aggressive pets allowed with prior approval (some breeds restricted)
A note about supplies:
Beach Condos in Destin provides dish washing soap for your stay and an initial supply of toilet paper, 1 roll of paper towels, hand soap, and 2 kitchen trash bags; enough to get you through your first 24 hours. We recommend you bring the following items for the remainder of your stay: toilet paper, paper towels, trash bags, napkins, spices/condiments, coffee and coffee filters, laundry detergent, hairdryer, beach towels, umbrella, beach chairs, beach toys, sunscreen, and anything else you may need for an enjoyable vacation.
BEACH RETREAT AMENITIES
Beautiful, 3,000 square foot, seasonally heated pool with partial shade cabanas and spa
WiFi at the pool and gym
Gym located at the Beach Retreat Clubhouse
Charcoal BBQ grills near the pool
Clubhouse available for guest functions for an additional fee
Large Private Beach with Beach Service (additional setups available through the Beach Service)
Gated community access
Elevator and stairs located at East and West ends of the resort
Convenient trash shoot on every floor
Walking distance to restaurants — Pompano Joe's, Captain Dave's, and Kenny D's
Bike rentals available locally
BEACH RETREAT COMMUNITY
The Beach Retreat is a pet-friendly community situated along Scenic Gulf Drive, perfect for family vacations and quiet getaways. Beach Retreat is convenient to some of the most popular restaurants in Destin such as The Crab Trap and Pompano Joe's, shopping at Silver Sands Outlet Mall or the Destin Commons Shopping Center, charter-boat fishing from Destin Harbor, walking and biking trails and numerous Destin golf courses. Resort guests enjoy the comforts of home boasting fully stocked units including a washer and dryer, with the added perks of a private beach and a beautiful, large, seasonally heated pool with attached jacuzzi.
Beach Retreat vacation rentals are on Scenic Gulf Drive between Maravilla (to the East) and Beach Resort / Leeward Key (to the West), making it centrally located in Miramar Beach.
Rates
Availability
26 Reviews
★ ★ ★ ★ ★
Great view, comfy furniture, nice pool, good stay!
Amanda: Date of arrival - August 21, 2021
★ ★ ★ ★ ★
We had an awesome stay, the picture is what you get. Communication was great through out the whole time. We would book this room and place again. Thank you again for the great experience.
Denise: Date of arrival - August 14, 2021
★ ★ ★ ★ ★
The condo was very clean and had everything we needed. It was beautiful and had great views!
Cara: Date of arrival - July 10, 2021
★ ★ ★ ★ ★
Great experience! Love the condo. Great beach and location. We'll visit again!
George: Date of arrival - July 3, 2021
★ ★ ★ ★ ★
We absolutely loved the condo in every way! The location was very safe feeling and central for many activities. We will definitely consider renting it again.
Julie: Date of arrival - June 26, 2021
★ ★ ★ ★ ★
This condo was beautiful and in a great location. Easy walk to the beach and a large pool.
Kim: Date of arrival - June 19, 2021
★ ★ ★ ★ ★
The condo was perfect for us. The bunk room was great for the toddler and the condo was pretty, updated and well appointed!! Beach chairs were also very nice!! Great place for walking, biking and pets!!
Jena: Date of arrival - May 1, 2021
★ ★ ★ ★ ★
This was a fantastic vacation. Excellent location! We had 3 restaurants within walking distance. The short walk across the street to the beach was amazing. We enjoyed the very clean condo and the ability to have coffee from the balcony and take in the amazing views. We had 7 guests in our party, the 2 older girls 8 & 11 loved the bunk beds. My parents enjoyed the front bedroom and bathroom. My wife and I found the master bedroom and bathroom very comfortable with plenty of room for our 4 year old to sleep on a toddler cot near the master closet. We will defiantly return!
Kevin: Date of arrival - April 3, 2021
★ ★ ★ ★ ★
We absolutely loved our stay in Unit 309. Kitchen was well stocked with plenty of silverware, dishes, 2 different styles of coffee pots (k-cup and regular-perfect for my husband and I's different preferences), and just about any utensil you could possibly need. Decor was lovely, kitchen and bathroom upgrades were beautiful! Location was perfect, 1-2 minute walk or 45 second jog :) We did not bring our pets, but love that it is an option. Lots of dogs to ogle at around the Beach retreat property, which our family loved! Highly recommend this unit to anyone traveling with their family, the set up would also be great for 2 couples with a couple small kids. Thank you for such a great stay!
Kayla: Date of arrival - March 27, 2021
★ ★ ★ ★ ★
Great location, steps away from private beach. Beautifully decorated, very clean & well appointed kitchen. Lovely views from large balcony. Having access to a pool and hot tub was a plus. We loved being able to bring our dogs! A new roof was being constructed during our stay. The days were a little noisy but that was unavoidable.
Amber: Date of arrival - March 6, 2021
★ ★ ★ ★ ★
We loved our stay at Beach Retreat. Right across from the beach and a lovely view. Our dog felt right at home and loved the balcony. He sat out there and watched the passerby's all day. Beach service is amazing. Umbrella and chairs provided. Beach is amazing! Pool clean and heated. Great place for our family to stay. We marked this for future visits.
Lisa: Date of arrival - March 3, 202
★ ★ ★ ★ ★
We thoroughly enjoyed our time at Miramar Beach. The condo was great and a wonderful location and views of the beach. Would highly recommend!!!
Pamela: Date of arrival - December 19, 2020
★ ★ ★ ★ ★
We cannot wait to come back. Just steps from the beach! The accommodations were great!
Kay: Date of arrival - November 22, 2020
★ ★ ★ ★ ★
TOdd: Date of arrival - July 11, 2020
Property is in a great location, is as depicted online, great beach views and access. Very convenient and practical. We had a wonderful stay.
VRBO Review #55351834
★ ★ ★ ★ ★
Tina: Date of arrival - June 27, 2020
Nicely decorated condo, awesome view of ocean. Picked this condo building because it wasn't a gargantuan building in the time of covid... beach area for Beach Retreat wasn't crowded either as some beach areas were... people were social distancing. Had a couple of email questions and managers got back to me in timely fashion
Reviewer location - New Orleans, LA
VRBO Review #54726827
★ ★ ★ ★ ★
Laurie Date of arrival - June 13, 2020
Everything about the property was as stated in listing. Owners very easy to work with , great communication.
Reviewer location - Evansville, Indiana
VRBO Review #54308317
★ ★ ★ ★ ★
April Date of arrival - June 6, 2020
We could not have chosen a better location to stay at on our Destin vacation. Condo was very clean and just like the pictures on the listing. Pool was awesome and beach right across the street. Checking was flawless and communication was effortless through email. Will definitely be staying here again if we come back next year.
Reviewer location - South Carolina
VRBO Review #54189002
★ ★ ★ ★ ★
Krisin Date of arrival - May 23, 2020
The place is beautiful! Close to the beach and very clean! Loved it there! We only was able to stay one night due to a family emergency. But it was great!
VRBO Review #53928590
★ ★ ★ ★ ★
Jules Date of arrival - February 29, 2020
My late husband and I stayed at beach retreat 7yrs ago, 2 yrs in a row. We loved it. He passed away in dec. I was his caregiver and had not been on vacation since 2013. I decided to go back to the same place since it's so accommodating for my dog. There are no words. It was the most perfect vacation I could've ever asked for! The condo was so beautiful. I had to call the property manager for 2 things to which she handled immediately. Our view was breathtaking! To wake up every morning staring at the ocean. We enjoyed the balcony as much as the beach! I will always go back to the beach retreat when I return to the gulf. Fantastic!
VRBO Review #30966793 3/15
★ ★ ★ ★ ★
Susan Date of arrival - May 30, 2020
The location was fantastic. Being on the 3rd floor there was an excellent view of the Gulf and high enough to have minimal road noise. The photos were accurate. The unit was clean. An issue during the stay was addressed and fixed in a timely manner. I would go back again.
Vrbo Review #54007918
★ ★ ★ ★ ★
Amy: Date of arrival - October 5, 2019
Good for our family of four plus grandparents. Everything we needed and enjoyed the view and pool.
VRBO Review #28859425
★ ★ ★ ★ ★
David: Date of arrival - October 12, 2019
We thought the property was awesome. It fit our needs perfectly. We enjoyed the condo layout and it's recent updated decor. The condo is nicely stocked with kitchen utensils and the startup supplies were more than adequate. Loved having the Keurig coffee maker in addition to the drip. The property is appropriately described in the VRBO writeup and pictures. The veranda was spacious with a terrific view. We enjoyed the sliding glass doors onto the patio from both the living and bedroom areas. Seems like there was a pet in every condo in Beach Retreat and the pets and owners all got along fine. We really enjoy the walking areas all around the Miramar Beach area. Had a great visit to Kenny D's and they were extremely pet friendly and good fun. (loved the gumbo)
VRBO Review #28949669
★ ★ ★ ★ ★
Bryan E. Date of arrival - June 29, 2019
Beautiful view. Great location. Many good restaurants nearby. Condo was nicely furnished and roomy enough for 6 adults. Large balcony which we loved for viewing the beach and people watching. The only minor issue was the 3rd bedroom. It is quite small with a bunk bed. Ok for small children, but pretty cozy for 2 adults. We would definitely rent again.
VRBO Review #27027801 submitted 7/10/2019
★ ★ ★ ★ ★
Nicole: Date of arrival - May 4, 2019
Amazing Condo! Gorgeous gulf views. The condo has everything you need. This was our second time staying in one of Renee's condos. Her condos are immaculately clean and beautifully decorated. Comfortable beds. And most importantly for us - pet friendly. We highly recommend any of Renee's condos.
VRBO Review #26155290 submitted 5/14/2019
simple, easy and great location ★ ★ ★ ★ ★
Date of arrival March 9, 2019
The size of this condo was perfect for our family of 5, including 2 children. Location was perfect - view the beach from the balcony and and simply walk across the street to get there. Management was very responsive and informative. Unit was clean and had all items necessary to make us comfortable for a week. Would definitely rent here again.
HomeAway Review #25546987 submitted 3/19/2019
Loved the decor ! ★ ★ ★ ★ ★
Date of arrival September 29, 2018
Very nice and clean condo with comfortable beds and couch with an awesome view!
Homeaway Review #24024277 submitted 10/10/2018
Questions on this property?
Beach Retreat 309 Condominium Rental
3 Beds | 2 Baths | Pet Friendly
Call Renee or Laura
(850) 269-3342 (local)
or send this short form