Golf Cart Rules in Miramar Beach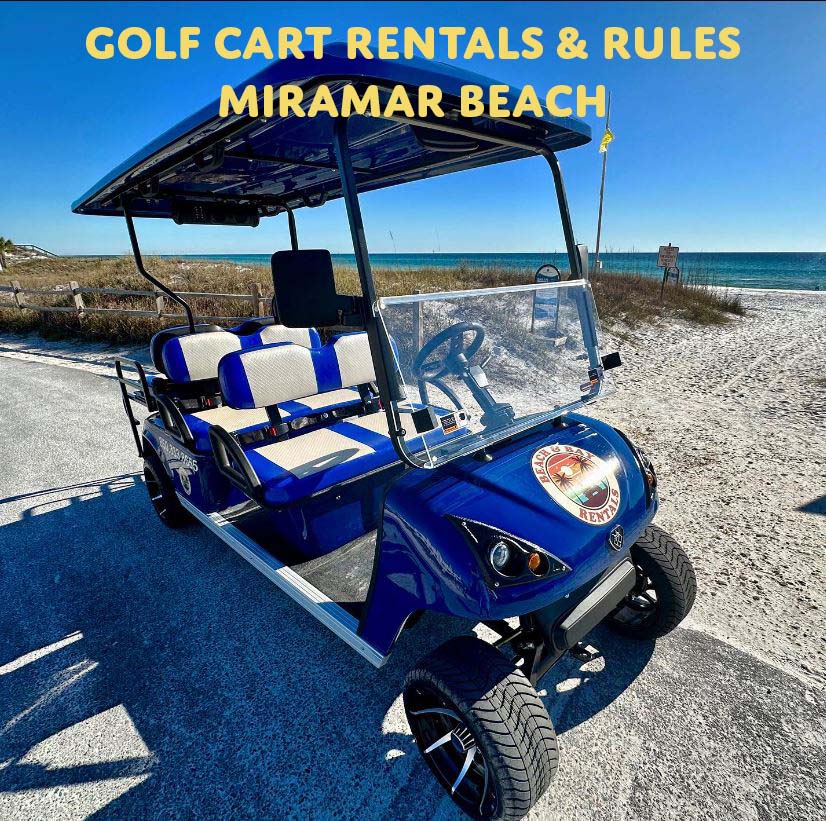 Each Golf Cart rental company may have different rules and regulations you will need to follow.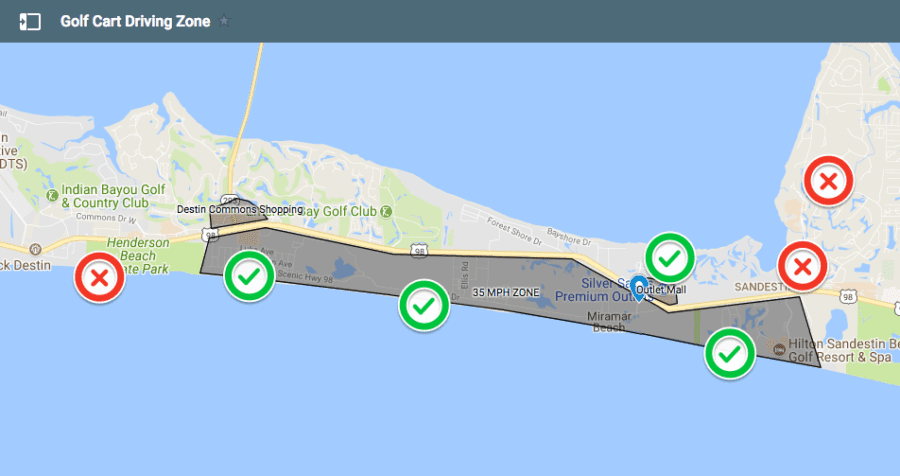 Golf Cart Rentals Miramar Beach, Fl Rules
As you may have noticed there are a ton of Golf Carts along Scenic Gulf drive in Miramar Beach where our vacation rentals are located. Similar to regular vehicles there are several rules associated with the privilege of guest being able to rent and drive a street legal golf cart along scenic gulf drive please consult Florida DMV and the company you rent from for the most up to date information on these rules.
People really enjoy driving the length of scenic gulf drive in low speed vehicle or golf cart rentals. A favorite pasttime for the golf cart group is driving to Pompano Joes or crossing over 98 to go to the Destin Commons for shopping, dinner or a movie.
As of this post, Florida Law currently states: "A low-speed vehicle or mini truck may be operated only on streets where the posted speed limit is 35 miles per hour or less. This does not prohibit a low-speed vehicle or mini truck from crossing a road or street at an intersection where the road or street has a posted speed limit of more than 35 miles per hour."
Drivers must be 16 years old or older and licensed , just like any other car.
Golf Carts are not allowed on bike paths, utility paths or other multi use pathways (in other words, roads only)
Golf cart must be equipped with headlights, taillights, rearview mirror, windshield, reflectors, brakes , seat belts and a registered tag.
No parking on Street/Pathways
Drive Sober and No open container
All passengers must wear a seat belt
May only be on roads with posted speed below 35 MPH
Golf carts are not permitted on highway 98
Children 3 and under must be in car seat
Everyone must have their own seat and wear a seat belt at all times
No sitting in laps
Additionally, many communities have separate rules concerning golf cart rentals
When staying in a condo we recommend you try to rent gas powered or with a battery that can be taken inside to be charged, there will be nowhere to charge batteries on the exterior of the building.
Each Golf Cart rental company may have different rules and regulations you will need to follow.
The Following of our Communities DO allow golf cart rentals
currently as long as you do not go over the number of parking spaces allowed for your unit.
Beach Retreat, Beach Pointe, Mediterranea, Leeward Key
The Following of our Communities DO NOT allow Golf Carts:
Beach House, Maravilla, Amalfi, Miramar Beach Villas
for great rental service and rates we recommend our friends with
Beach & Bay Rentals
850-333-8655