Add some adrenaline to your next Destin Beach vacation!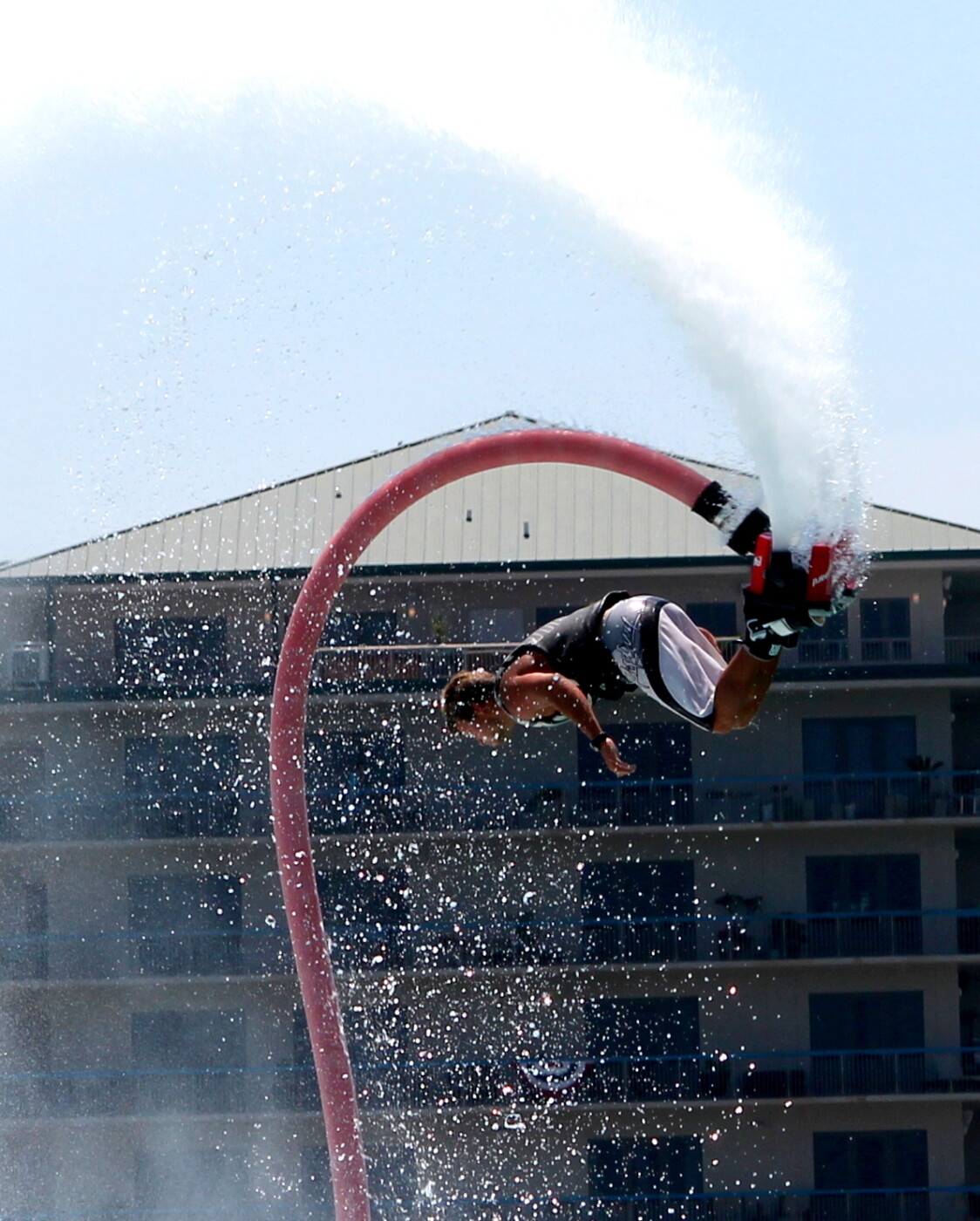 Are you an adrenaline junky?  Do you have a bucket list that includes being propelled into the air like a super hero?  If so-we've got a new, exciting water sport for you to try!  It's called Flyboarding.

Some friends and I rented a pontoon boat last Sunday from Gilligan's Watersports and took off for a beautiful day anchored around Crab Island when I looked up and saw flyboarding in action for the first time.  I immediately thought "that looks SO FUN!"  The flyboarder was propelled high into the air, spinning, flipping and diving into the ocean like a dolphin!
According to Power Up Watersports, who offers this awesome experience:  The Flyboard works on a water propulsion system. The board is connected by a hose to a  Jet Ski and is propelled by the water from the Jet Ski intake. Using his or her weight, the rider directs the board left or right, up or down while the Flyboard operator in the Jet Ski controls the speed and direction of the flight path.

Anyone can ride the Flyboard (18 and up or 16-18 with guardians permission) with about 10 minutes of instruction and training. The Flyboard is easy to operate and just takes a little bit of courage and adventurous spirit.
Now, if you don't have quite enough courage or the "adventurous spirit" needed for flyboarding-or if you have children who wouldn't meet the age limit to Flyboard, don't fret!  Power Up Watersports also offers a less intense activity to enjoy around Crab Island with Aqua Trikes.  Fun for all ages and suitable for up to two adults and a child per trike, you can pedal around the beautiful waters of the emerald coast and enjoy the sun, sights and sounds around you.

Have you tried flyboarding or water trikes yet?  If so-please leave us a comment to tell us what you thought of your experience!
We look forward to seeing you soon on the gulf!