What to do in Destin July 4th 2017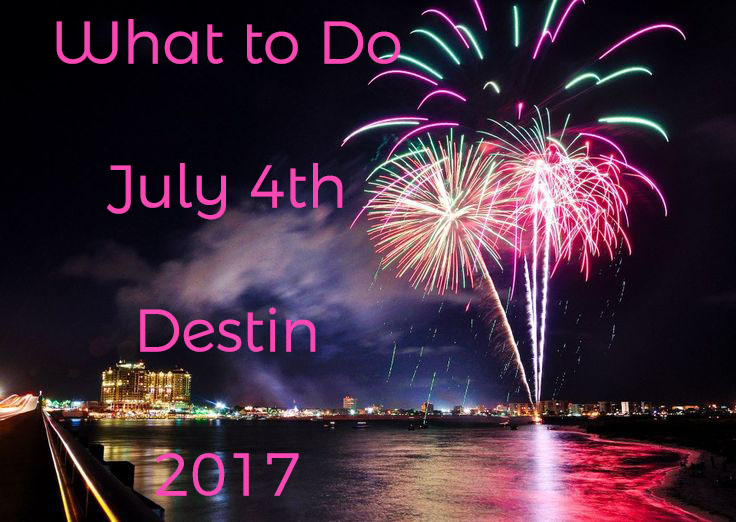 2017 Smoke on the Coast BBQ & Fireworks Festival
Date: July 3, 2017
Event Description:
Destin Commons recently announced they will be partnering with 16 area charities for their upcoming 7th  Annual Smoke on the Coast BBQ & Fireworks event on July 3. These charities will be teaming up with various restaurants and BBQ aficionados to fire up their grills, with each team preparing their BBQ inspired specialty. Then attendees sample mouth-watering BBQ dishes hot off the grills and cast their votes for the coveted People's Choice title. Celebrity judges will also award Judge's Pick winners of a blind taste test.
The 16 non-profit organizations, along with their BBQ teams, will be:
Air Force Enlisted Village/The Gulf Seafood Restaurant
Arc of the Emerald Coast/Highway 98 BBQ
Boys & Girls Club of the Emerald Coast/Big Red Truck
Children In Crisis/B&C Fire Safety
Choctawhatchee Basin Alliance/Whole Foods
Destin Rotary Foundation/Destin Rotary Club
Emerald Coast Children's Advocacy Center/BrightView Landscaping
Food For Thought/Waste Management Company
Habitat for Humanity/Hub City Smokehouse & Grill
Harvest House of Destin/Tailfins Seafood House & Oyster Bar
Heritage Museum of NW FL/Okaloosa Gas
Mattie Kelly Arts Foundation/BC's Southern Paradise BBQ & Catering
Opportunity Place/Classic Catering
Panhandle Warrior Partnership/Making their own BBQ
Ronald McDonald House Charities/Voodoo BBQ & Grill
Toys for Tots/Bass Pro Shops
"We are excited about the addition of so many charities involved this year," commented Destin Commons marketing manager, Heather Ruiz. "Just by participating, each charity will automatically receive $2,500. This will truly be a charitable event with the potential of donating up to a total of $80,000 to these non-profits through our Coins For A Cause program and the proceeds of Smoke on the Coast."
Red, White, and Baytowne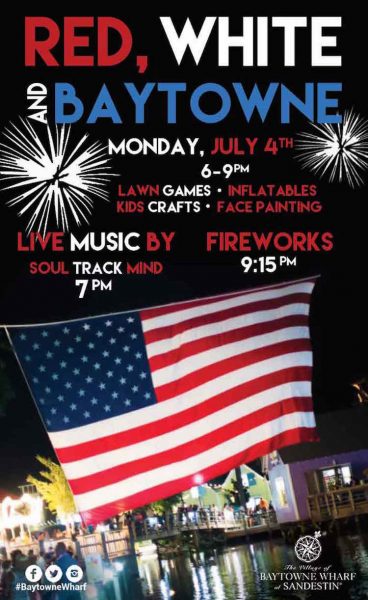 Tuesday, July 4th
Time: 6-9pm
Location: The Events Plaza Lawn
Cost: Free
Celebrate Independence Day at Baytowne! Enjoy a day of fun in the sun, and an evening that lights up the sky! Live music and kid's activities from 6-9pm. Enjoy LIVE music with Soul Track Mind on the Events Plaza Stage starting at 7pm! Our patriotic fireworks light up the sky at 9:15pm.
Fourth of July Celebration
Let Freedom SING!
Come down to the Destin Harbor and celebrate Independence Day with live music all weekend long.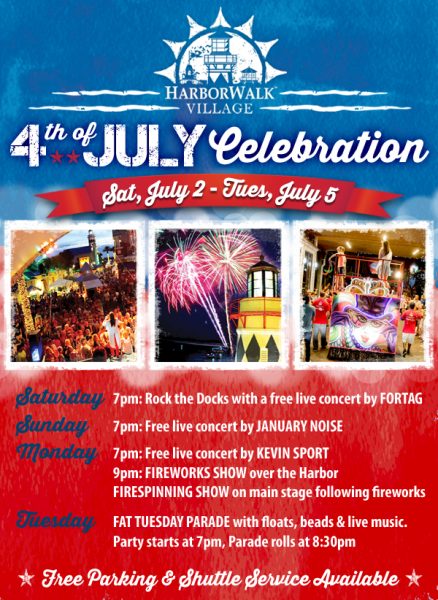 Saturday July 2nd 7:00 PM Fortag
Sunday Juy 3rd 7:00 PM: January Noise
Monday July 4th 7:00 PM: Country singer/songwriter Kevin Sport and Fireworks at 9:00 PM with a exhilirating fire experience by Just Add Fire!