Beach Condos in Destin our favorite places to go for food and entertainment each day of the week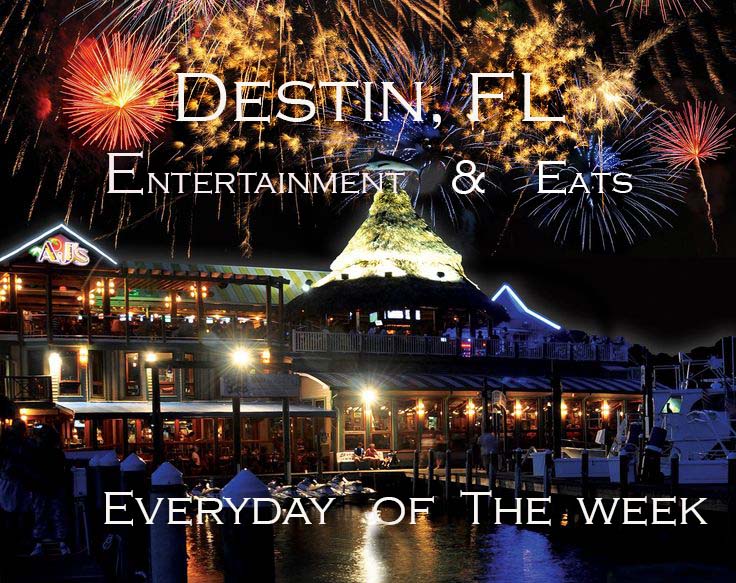 Great Food and Entertainment in Destin / Miramar Beach
Don't Just Go to Dinner—Make Lifetime Memories with Your Family and Friends.
The kids are welcome at these establishments and will love it. Keep your camera ready to catch those great moments that you will want to remember. Great talent is everywhere in Destin if you just know where to go. Below is a weeklong agenda to help you keep your family entertained and convinced you are the best planner.
Sunday
3-6 pm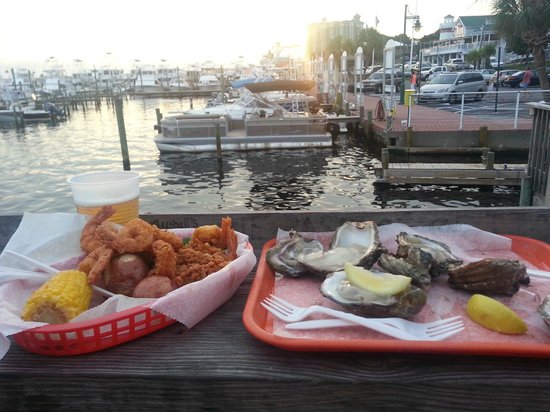 Boathouse—Everyone loves the Boathouse. One of our favorite things is to go to the Boathouse for the afternoon and enjoy listen to Kelly Byrd sing and enjoy an appetizer of Crab Claws, Oysters or Gumbo (Voted Best Oysters and Gumbo for the past 30 years!). https://www.facebook.com/BoathouseOystersDestin/
My family likes to follow that up with a visit to McGuire's for the best steaks in town. Plan on a wait as it is a very popular place but has massive seating capacity. They do try to make the wait entertaining with outdoor tables and drinks available and often music. http://www.mcguiresirishpub.com/locations.php

Monday
Monday is a quiet day in Destin as most families are still wanting to maximize their beach time. If you want to enjoy one of best local secrets around, take in the ½ price burgers at the Craft Bar. http://thecraftbarfl.com/destin or enjoy Pompano Joe's in Miramar Beach. There is typically music at the lower level sand bar beginning at 4 or 5 pm. http://www.pompano-joes.com/

Tuesday
Baytowne has Booming Tuesday Fireworks at 9:15 pm. The kids will enjoy the Baytowne Adventure Zone http://www.baytownewharf.com/village_activities.php
Our family enjoys Rum Runners with the dualing piano bar for dinner and musical entertainment. http://www.rumrunners.com/sandestin/
Wednesday
Grafiti's, a local favorite has great nightly entertainment. If you are familiar with Graffiti's, they moved to the old Chili's location this year. You can even make reservations from their website. http://graffitifbs.com/ They have excellent food and on Wednesday night they have a favorite local group, Continuum, playing from 8 pm. A local band with a unique sound that is fun to dance to. http://www.continuumsound.com/index.html

Thursday
Boshamps is great for some of the best seafood in Destin (always fresh) https://www.boshamps.com/ You can enjoy the Harborwalk WWII vintage airshow (7 pm) and the Fireworks (9 pm) from the outside deck or beach area of Boshamps. Valet parking or Uber is the way to go on arriving/parking at this popular restaurant. If you get there and there is a wait, go out back on the deck / beach area where you can get a drink, watch the sunset and enjoy the scenery.

Friday
Bric a Brac is one of my favorite Friday night places in Destin for great entertainment and food. My favorite is Bric a Brac Chicken ($15). http://www.bricabracdestin.com/ This is part of the Red Bar family of restaurants. Cheryl Jones and Company plays on Friday night 7-10 and the whole family loves to dance to this wonderful local group of musicians. https://www.facebook.com/Jones-and-Company-Band-119282291457452/

Saturday
Tailfins at the Harbor or the Crab Island Cantina http://www.tailfinsdestin.com/ or https://www.crabislandcantina.com/ . There is music going on at various venues all along the harbor including the Rock the Docks music event on the main Harborwalk Villages Stage. https://www.emeraldgrande.com/harborwalk-village/all-activities/ Watch the boats coming and going from the harbor, take the zip line, climb the Rock Wall, watch Ruby the dog entertain the crowds near Margaritaville (she will make you smile). Consider riding from one end of the harbor to the other on the Destin Water Taxi for $5 per person. http://destinwatertaxi.com/