Crab Island Destin Tips and Tricks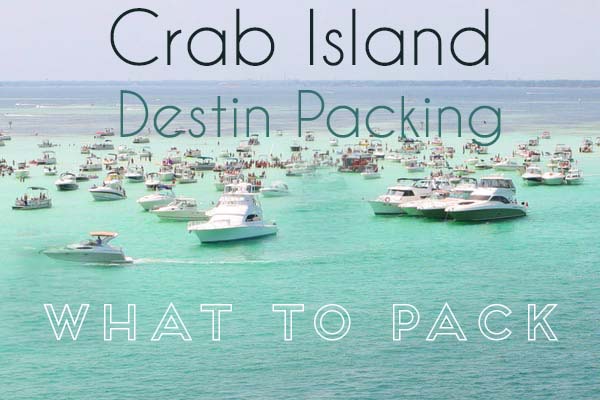 Crab island is a sand bar located just to the west of the Marler bridge coming into Destin from Okaloosa Island.  Experienced boaters and Pontoon boat renters alike anchor up and wade around the Crystal Clear waters that make Destin so famous.  While most of your families needs can be purchased while out on Crab Island.  It is always best to prepare ahead of time.  Here are some tips from Local friends.
Tips and Tricks for a Day at Crab Island Destin
 Pack Snacks and your Cooler.  I personally grill hot dogs the night before, put them in the buns and set them out to steam in the packaging that morning.  It is such a easy grab and go meal.
Remember the closest restroom is at Dewey Destins which may take you 30 minutes to get to by boat.
Bring rope to tie floats to the back of your boat
Give yourself plenty of room between boats (especially if the current is strong) to anchor so you don't hit anyone.
Bring Football or Frisbee
Bring nets to catch hermit crabs (but please be gentle and throw them back).
Do not forget garbage bags and Paper Towels
Lotion Sunscreen.  Most boats like condos do not want you to use spray on sunscreen on their property( on boats like condos it sticks to floors and because it is water proof it is not easily cleaned and will turn your feet black/ruin upholstery)
Cash for renting Paddle Boards, Purchasing Boiled Peanuts, Buying Ice cream T-Shirts etc.
Bluetooth Speaker
Safety Tips from Locals about Crab Island
While the water is shallow you should never try to swim to shore from Crab Island or from shore to crab island.  It is a lot further than it looks and the current can be strong in points
Make sure kids and dogs wear a flotation device, even if they can stand with their head above water
Drinking and driving rules still apply while boating.  Be sure you have a designated driver
Watch For NO Wake Zones
Be mindful of the currents
Reminder that except for the boat, there's no shade so keep that in mind and reapply sunscreen/hydrate often.